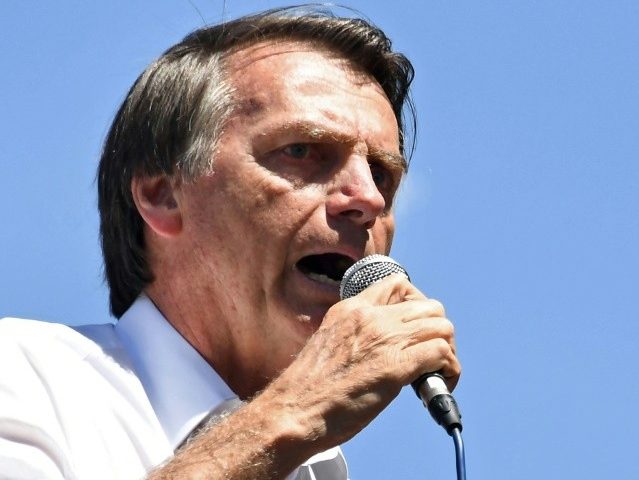 Communist Party authorities fear the election of conservative firebrand Jair Bolsonaro in Brazil's presidential race this weekend following his remarks warning against Chinese investment, Reuters reported.
According to a report from Reuters published Thursday, top Chinese diplomats have met with top Bolsonaro advisors in recent weeks to highlight the supposed benefits of maintaining a strong trading relationship between the two countries, attempting to dissuade Bolsonaro from his publicly hardline views on China's influence.
"Regardless of right- or left-wing, we want to talk and advance the smooth development of China-Brazil relations, which we believe benefits both countries," Qu Yuhui, Chinese Minister-Counselor at the embassy in Brasilia, told the agency. "We have confidence that whoever is Brazil's president will improve China-Brazil relations."
Echoing the rhetoric and policies of President Donald Trump, Bolsonaro has repeatedly warned about Beijing's's growing influence on the country. Foreign direct investment from China grew 37 percent between 2010 and 2016, during the tenure of socialist Workers' Party (PT) President Dilma Rousseff.
"China isn't buying in Brazil. China is buying Brazil," Bolsonaro has said. "We will do business with the Chinese – but we will not hand our territory over to anybody."
Beijing has long considered Brazil its most important target for expanding its influence over Latin America, given its vast land mass, reserves of natural resources, and a population of over 200 million people. Some of their most common investment tactics include predatory lending, investing heavily in Brazilian companies, and grand infrastructure projects that have boosted their relationship with governments across the continent.
Communist Party officials have made no secret of their desire to "promote globalization" in the region. China also has seen a sharp rise in the study of Spanish and Portuguese among undergraduates. Chinese officials have also tried to argue that Latin America has a role to play in the "Belt and Road" initiative, a global infrastructure plan to give China control of the world's most significant ports, roads, and railways.
"We are worrying a bit about some of his extreme views," added one Chinese infrastructure executive. "He is on guard against China."
In February, Bolsonaro enraged government officials by becoming the first Brazilian candidate to visit Taiwan, which he recognizes as an independent state. In response, the Chinese embassy in Brasilia released a statement denouncing the visit as an "affront to the sovereignty and territorial integrity of China."
O dia em Taiwan – motores da prosperidade, tecnologia, inovação e educação! pic.twitter.com/nj3Ag3E0G2

— Jair Bolsonaro 1️⃣7️⃣ (@jairbolsonaro) March 2, 2018
Some believe that Bolsonaro may be forced to compromise if he wants to help revive the Brazilian economy, which has seen disappointing growth in recent years.
"Bolsonaro may have reservations about the sale of certain assets, but if Chinese investment goes into infrastructure that Brazil badly needs to export food and minerals, I do not think he will oppose it," Rubens Barbosa, a former Brazilian ambassador to the U.S, said earlier this month.
Although Bolsonaro's election to the presidency remains likely, it is still uncertain. According to polling ahead of Sunday's election, the 63-year-old military veteran leads socialist opponent Fernando Haddad by around 14 points.
Follow Ben Kew on Facebook, Twitter at @ben_kew, or email him at bkew@breitbart.com.
http://feedproxy.google.com/~r/breitbart/~3/m2TFKCCMHkc/