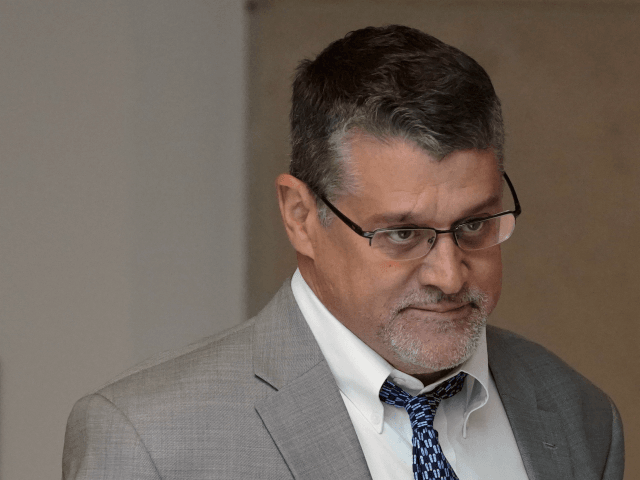 Rep. John Ratcliffe (R-TX) told Fox News's Sunday Morning Futures host Maria Bartiromo on Sunday that Fusion GPS co-founder Glenn Simpson is in "real legal jeopardy."
Glenn Simpson's lawyer notified Congress that his client will invoke his Fifth Amendment right not to testify before the House Judiciary and House Oversight and Government Reform committees next week.
A partial transcript is as follows:
BARTIROMO: What's most important about this upcoming week?

RATCLIFFE: Well, as you know, we did subpoena Glenn Simpson, the Fusion GPS co-founder, the person who commisioned the infamous Steele dossier paid for by Hillary Clinton and the DNC. He has indicated through his lawyers that he plans to take the Fifth or assert his Fifth Amendment rights against self-incrimination.

The reason for that, Maria, is that Glenn Simpson had previously testified under oath to the House Intelligence Committee that he never met with Bruce Ohr or discussed with Bruce Ohr the Steele dossier prior to October FISA application in 2016 or the 2016 presidential election. That is in direct contraction to what Burce Ohr told me under oath last month.

I'm not surprised Glenn Simpson is taking the Fifth. He probably should. He's in real legal jeopardy. Very clearly, someone is not telling the truth.

Nellie Ohr, Bruce Ohr's wife, certainly could shed some light in respect to that circumstance. But we also need to find out from Nellie Ohr, who was paid $40,000 by Glenn Simpson and Fusion GPS for her work, including her work on the Steele dossier. Why that fact? — the fact that the wife of the number four person at the Department of Justice, who along with her husband had operational roles with respect to the Steele dossier — that that fact was not disclosed by the Department of Justice when they presented that evidence to the FISA court.

BARTIROMO: Where is the crime then? Is it her husband, or is it her? She did all of this research, which was never verified on Donald Trump, and then put it in this dossier, and then put it in a little thumb drive, and gave it to her husband at the DOJ, who wasn't even working on anything about Trump at the time.

RATCLIFFE: Ultimately, the questions with respect to the FISA court and the representations that were made — remember what we're talking about — is the extraordinary measure of getting a warrant to spy on an American citizen. If that was done under false pretenses and under false information, or false verification, then that's violating someone's civil liberties under the color of law.
http://feedproxy.google.com/~r/breitbart/~3/NpvibAreC98/