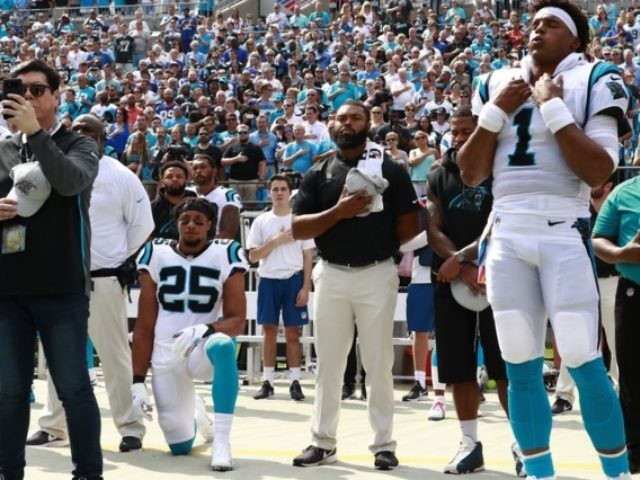 Panthers safety Eric Reid was the first player to join Colin Kaepernick in 2016, when the latter began kneeling for the national anthem. Now, with Kaepernick out of the league, Reid is continuing the protest begun by Kaepernick.
On Sunday, Reid took that protest to Washington, DC.
According to the Sunday Express, "Reid knelt right in front of the American flag on Sunday, as the Panthers face the Washington Redskins."
Hard to see him, but Eric Reid kneeling behind the crowd of photographers. pic.twitter.com/gfGr4d3Wpe

— Joe Person (@josephperson) October 14, 2018
According to SB Nation:
In March, the former 49ers safety became a free agent and when he was unable to find a new team, he followed Kaepernick's lead and filed a collusion lawsuit against the NFL, which is still ongoing. Reid had been the best available safety on the open market, until the Panthers signed him at the end of September.

In his first press conference with the Panthers, Reid said the Panthers did not ask him if he would protest before signing him. He also said hadn't made up his mind on if he would demonstrate before the game or not.

'I said that I would be considering other ways, and I'm still considering,' Reid said. 'I'm still evaluating the scope of our country.'
After apparently finding those "other ways" unappealing, Reid elected to continue his protest. Though, he does so with a much smaller supporting cast than he did in 2016 and 2017. Through the first six weeks of the 2018 season, NFL anthem protests have averaged fewer than ten players a game.
Follow Dylan Gwinn on Twitter @themightygwinn
http://feedproxy.google.com/~r/breitbart/~3/RyMR0xxOZfw/