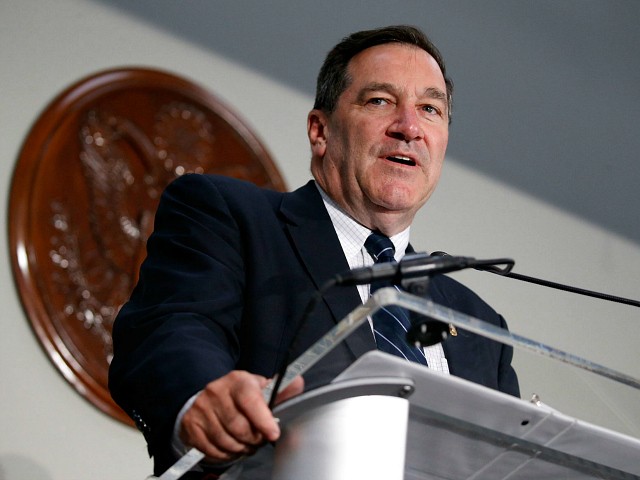 During the October 8, 2018, Senate Debate in Indiana, Sen. Joe Donnelly (D-IN) pushed gun controls that would not have stopped a single mass public attack in recent memory.
The three-way debate featured Sen. Joe Donnelly, Libertarian candidate Lucy Brenton, and NRA-endorsed Republican Mike Braun.
NWI.com reported that the question on guns was addressed to Donnelly. He was asked about whether he would support gun storage laws, and he responded by saying, "A storage law is something we need to look at." He then shifted to push for an end to the "gun show loophole" and to call for the no-fly list to be added to background checks, so those suspected of being too dangerous to fly are also barred from buying firearms.
Two problems with Donnelly's answer: 1. There is no "gun show loophole." 2. Adding the no-fly list to background checks' prohibited purchasers list violates due process.
Democrats have been at war with gun shows since the Clinton administration; that is how long ago they came up with the phrase: "gun show loophole." The phrase gives them political cover for pushing to expand background checks to cover private sales at events like gun shows. The phrase is particularly helpful for red-state Democrats who might not want to say "expand background checks" but are comfortable saying "gun show loophole."
Ironically, the baseless claim that there is a gun show loophole was not lost on Libertarian candidate Lucy Brenton. She openly called "B.S." after Donnelly made the claim.
Additionally, Democrats pushed to add the no-fly list to background checks following the December 2, 2005, San Bernardino shooting and the June 12, 2016, Orlando Pulse attack. Yet even less-than-conservative outlets like the Los Angeles Times and Washington Post voiced opposition to the idea. The problem was the imprecision of such lists combined with the fact that adding them to background checks would mean a forfeiture of Second Amendment rights based on suspicions rather than convictions.
Moreover, not one of the attackers in San Bernardino or Orlando was on a list to begin with, so the push for adding the list to background checks was simply gun control for the sake of gun control.
AWR Hawkins is an award-winning Second Amendment columnist for Breitbart News, the host of the Breitbart podcast Bullets with AWR Hawkins, and the writer/curator of Down Range with AWR Hawkins, a weekly newsletter focused on all things Second Amendment, also for Breitbart News. He is the political analyst for Armed American Radio. Follow him on Twitter: @AWRHawkins. Reach him directly at awrhawkins@breitbart.com. Sign up to get Down Range at breitbart.com/downrange.
http://feedproxy.google.com/~r/breitbart/~3/gYW41W4OkYg/