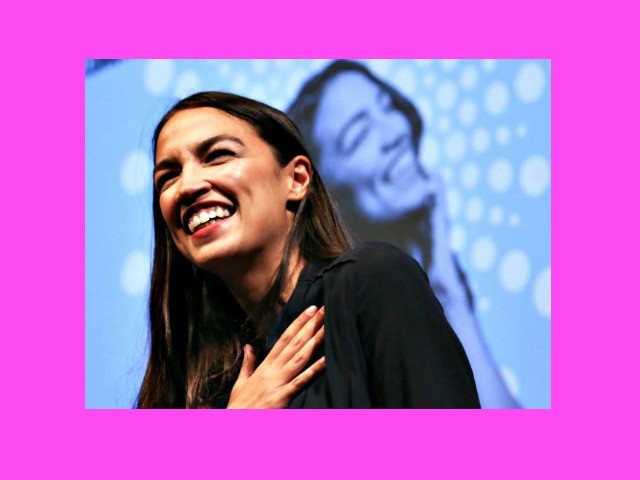 Socialist Democrat Alexandria Ocasio Cortez, the 28-year-old who is running virtually unopposed for a House seat in New York's 14th Congressional District, is the poster girl for what is being described as the "pink wave" of women running for public office.
But she is only one of a record number of women running for seats in the United States House and Senate and for governorships across the country — 278, according to Rutgers University's Eagleton Institute of Politic's database for the 2018 midterms election.
Of those women, only 11 are Republicans.
In Senate races: Incumbent Sen. Deb Fischer (R-NE), Martha McSally (R-AZ), Marsha Blackburn (R-TN), Karen Housley (R-MN), Chele Chiavacci Farley (R-NY), Susan Hutchison (R-WA), and Leah Vukmir (R-WI).
In governor races: Kay Ivey (R-IA), Kim Reynolds (R-IA), Andria Tupola (R-HI), and Kristi Noem (R-SD).
So whether or not a "blue wave" takes place on election day and Democrats retake the majority in the House and/or Senate, the pink wave is already making history.
And the 267 Democratic women who are running for public office are anything but conservative, including Ocasio-Cortez, who worked with Sen. Bernie Sanders (I-VT) before launching her political career. She has said she wants to be just like Sanders as a member of Congress.
Vogue featured her in an article entitled, "How Alexandria Ocasio-Cortez and Other Progressives Are Defining the Midterms":
All through the primaries, pundits have been declaring 2018 the year that women have finally decided to storm the gates of government. Maybe it was #MeToo or the marches—or "the Republican party increasingly looking like a scene from The Handmaid's Tale," as Steve Schmidt, the political strategist, tells me—but a record 529 women announced they would run for Congress this year. Another 61 filed to pursue governorships.
A National Public Radio (NPR) report revealed a sampling of the women running:
In Massachusetts, Ayanna Pressley is positioned to be the first African American woman to represent the state in Congress. In Texas, Gina Ortiz Jones, a former Air Force intelligence officer, could become the first openly gay, Asian American House member. In Georgia, Stacey Abrams is the first black woman to secure the nomination for governor. In New Jersey, Mikie Sherrill, a former Navy pilot, and federal prosecutor is likely to replace a 23-year House Republican. In Vermont, Democrats nominated Christine Hallquist, who would become the nation's first transgender governor. In Minnesota, Ilhan Omar is poised to be among the first Muslim women to enter Congress. (Michigan has nominated Rashida Tlaib.)
"But of all the impressive women running, it's Ocasio-Cortez who has emerged as the anti-Trump," Vogue reported. "He's from Queens; she was born less than fifteen miles away, in the Bronx. He inherited a family business; she was bartending as she mounted a campaign for office."
"If Trump is the last gasp of the baby boomers, then Ocasio-Cortez is the first emphatic cry of the millennials," Vogue reported. "But each arrived as an insurgent, skillfully lassoing populist fervor to topple establishment politicians."
But, NPR asked, is this "pink wave" just a blip or the start of a trend?
"What we do know is that women don't think about running for office as often as men do without getting recruited, without having someone else suggest it," Deborah Walsh, director of Rutgers University's Center for American Women and Politics, told NPR.
"We don't know if this is a one-off or if this may be the beginning of a new norm," Walsh said. "But it's fascinating to watch women who are not necessarily waiting to be asked, not waiting to be asked to the dance."
"They're just stepping up and engaging as candidates," Walsh said.
"One thing Walsh cautions against is overstating how big this year's wave is," NPR reported. "For one thing, a large share of women candidates are challenging incumbents — an uphill battle in most districts. In addition, while the number of women running is by far record-setting, men came out in droves, too."
"Let's keep in mind that women made up only less than a quarter of the congressional candidates this cycle who filed," Walsh said.
Follow Penny Starr on Twitter
http://feedproxy.google.com/~r/breitbart/~3/St6zfdX5sNQ/