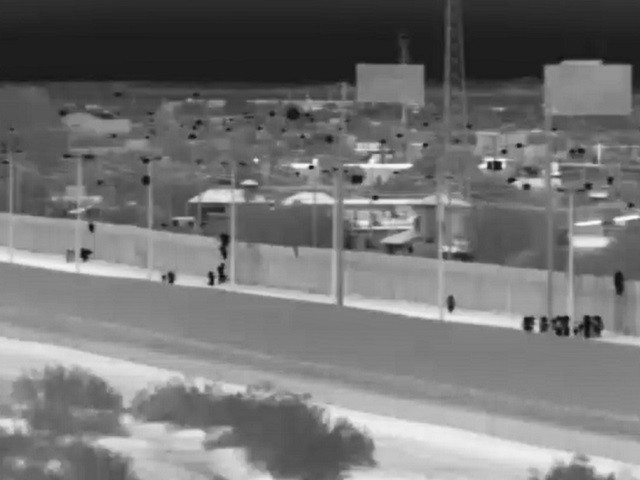 Border Patrol agents in the Yuma Sector continue to apprehend record levels of migrants illegally crossing the border from Mexico.
Agents assigned to the Yuma Border Patrol station patrolling east of the San Luis Port of Entry in the early morning hours of October 18 observed a large group of migrants crossing over the border wall. Video surveillance captured night-vision images of the illegal crossings. In total, the agents apprehended 108 migrants as part of a "coordinated smuggling effort," according to information provided to Breitbart Texas by Yuma Sector Border Patrol officials.
"Coordinated smuggling of large numbers of Central Americans is taking place daily here in Yuma Sector," Yuma Sector Chief Patrol Agent Anthony Porvaznik said in a written statement. "They show flagrant disregard for the laws of our country and are exploiting our need for improved border wall infrastructure."
Officials indicated that the smugglers dropped off the legacy landing mat border wall in four places at the same time. The smugglers never crossed the border and retreated back to Mexico after dropping their "human cargo."
At least 100 of the 108 migrants came to the U.S. from Guatemala. Agents determined the other eight were Honduran nationals. The group included nine infants and toddlers ranging from one-year-old to five. In total, the group contained 52 children.
Throughout the rest of that day, agents apprehended an additional 112 migrants — mostly Guatemalans traveling as family units, officials stated.
Because of a lack of new legislation from Congress, most of these migrants will be processed and released with a notice to appear at an immigration court near their ultimate destination.
Yuma Sector officials reported that the apprehension of "Other than Mexican" (OTM) migrants is up more than 200 percent over Fiscal Year 2017 year-to-date numbers. Official numbers of migrant apprehensions along the southwest border are due out any day from U.S. Customs and Border Protection officials.
Bob Price serves as associate editor and senior political news contributor for Breitbart Border/Cartel Chronicles. He is a founding member of the Breitbart Texas team. Follow him on Twitter @BobPriceBBTX and Facebook.
http://feedproxy.google.com/~r/breitbart/~3/HWvurbPrWgs/