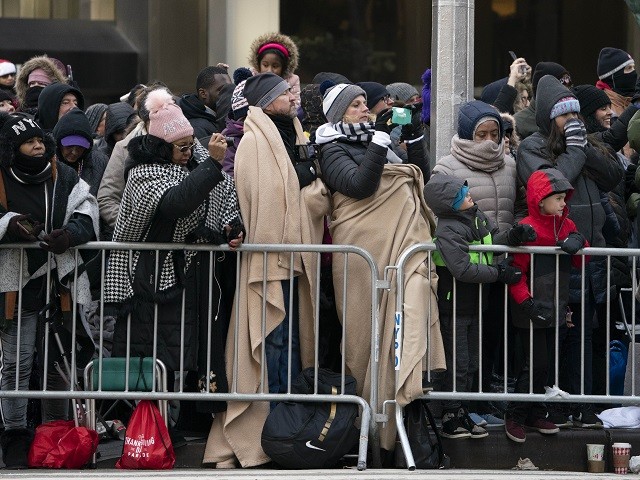 Frigid temperatures set records across the Northeast United States for Thanksgiving Day as bouts of snowfall and icy cold winds swept through the region.
"Thanksgiving Day 2018 [brought] the coldest conditions of autumn so far to the Northeast; it [was] flat out blustery and frigid," said AccuWeather meteorologist Alex Sosnowski."Temperatures started the day in the single digits F in the northern tier and the middle 30s in southern Virginia."
"Despite bright sunshine in many places, the temperature rose no more than 10 degrees in most locations during the day," she added.
The Macy's Thanksgiving Day Parade was the chilliest in its 94-year-old history with temperatures dropping to 19 degrees by 11 a.m. local time. The prior record for the parade was 21 degrees, occurring in  1930, 1938 and 1972.
"Providence, Rhode Island; Buffalo, New York; Hartford, Connecticut; and Bangor, Maine, are just a sample of cities that experienced their coldest Thanksgiving on record with temperatures as much as 30 degrees below normal," AccuWeather reports.
Temperatures bottoming out at -26F and hurricane-force winds can't stop observers from getting together to enjoy a Thanksgiving dinner! *Some items (and observers) may require thawing! Brr! Happy Thanksgiving! #thanksgiving #mwo #mtwashington #cold #mwob… https://t.co/8ibXNlJB7a pic.twitter.com/DwrSb1ixWN

— MWObservatory (@MWObs) November 22, 2018
The frosty conditions left dozens of turtles dead and washed ashore Thursday in parts of Brewster, Eastham and Orleans, Massachusetts. "We are at well over 400 cold-stunned turtles (for the year) — 82 today, the vast majority of them frozen solid," said Massachusetts Audubon Society's Wellfleet Bay Wildlife Sanctuary communications coordinator Jenette Kerr. "(Wednesday) we had 87, the vast majority of them alive. Drastic change in the weather overnight. Most of the turtles are coming in from Brewster, Orleans and Eastham. We fear we may get more frozen turtles on (Thursday night's) and (Friday's) high tides."
http://feedproxy.google.com/~r/breitbart/~3/BHBIDU4XzJg/