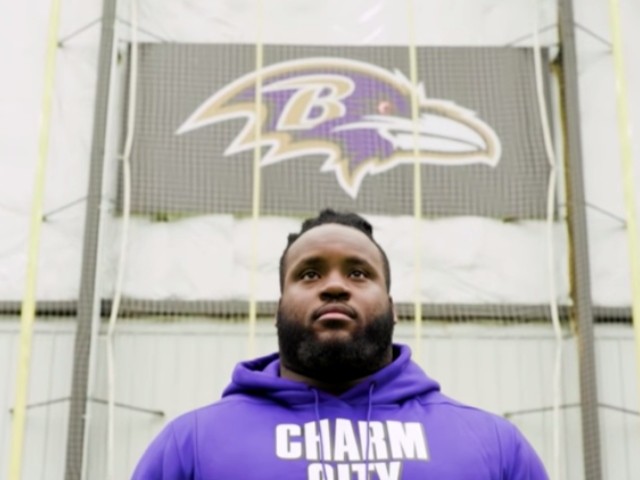 Beginning this week, the NFL will feature a program called "My Cleats, My Cause," where players can highlight a cause of their choice with custom-painted game cleats.
More than 800 players are participating, with some bringing attention to serious diseases such as Pediatric Cancer, ALS and Alzheimer's. Others will highlight important causes like foster care and world hunger.
And then you have case of Baltimore Ravens nose tackle Michael Pierce, whose cleats are honoring the country of Israel.
Pierce, a devout Christian, was so moved by a recent trip to Israel he decided to have that nation's flag painted on his cleats.
"After growing up reading the bible to learn exactly where Jesus walked was awesome," Pierce said.
One of the highlights of Pierce's March trip was visiting the Jordan River where many believe Jesus was baptized.
Aside from seeing many spots in Israel that have been historically connected to Jesus, Pierce also got to experience some Jewish customs.
"To go over there and see the difference and to see just exactly how the culture is: I went to Shabbat dinner, I just enjoyed the company and learned so many different customs and things that they do that I've just never been aware of," Pierce said.
The Alabama-native, in his third season with the Ravens, said he felt a "oneness and the connectedness with that land."
Aside from wearing the Israeli flag on his cleats, he will also have the logo of the Israel Collective, the group that arranged his trip. The IC works to build relationships between young American Christians and Israel. In March, Pierce was part of an NFL group that visited Israel with the IC.
"Israel Collective has been a life-changing thing for me," Pierce said. "Having the Israel flag in front and center was paramount for me – I needed that to be right where it is."
The massive, powerful 340-pound nose tackle out of Samford, a Christian University in Homewood, AL, hopes that his cleats will lead more people to visit Israel.
"I hope that people will read about [this] and then maybe go over there – if they're able to of course – and to be able to see exactly what's going on," Pierce said.
http://feedproxy.google.com/~r/breitbart/~3/L2qBOD8p9-s/