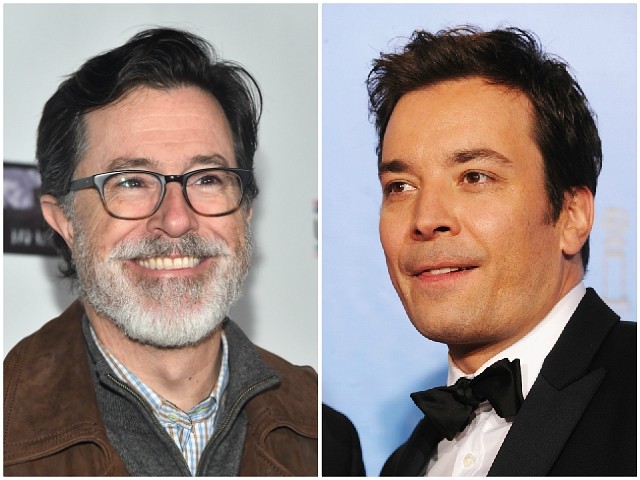 A new report indicates that CBS' The Late Show with Stephen Colbert, which is rife with anti-Donald Trump humor, beat NBC's Tonight Show Starring Jimmy Fallon in the ratings for the second straight.
The New York Post reports:
An average of 3.75 million viewers tuned in to Colbert's "Late Show" on CBS during the 2017-18 TV year, which officially ended on Sunday, according to Nielsen Ratings. That's 46 percent more than the 2.57 million nightly viewers Fallon averaged on NBC.

Fallon — who has been faulted by Colbert fans for his softball interviews and monologues that sidestep the daily Trump news cycle — is still on top when it comes to the 18-to-49 age group that's coveted by advertisers.
This is the second year that Stephen Colbert has come out on top. Fallon's late-night show is far less political. The NBC funnyman came under fire in 2016 after inviting then-candidate Trump on his show and delivered a fairly friendly interview where he infamously messed up Trump's hair.
Colbert's victory should come as no surprise to those who have followed news and entertainment media over the last year. Those who are the most virulently anti-Trump can score big wins in the ratings.
MSNBC's lineup is almost entirely anti-Trump, from early morning to night, seven days a week, and it has seen a year of great ratings created by fostering a left-wing audience.
MSNBC's Rachel Maddow has even occasionally overtaken Fox News Channel's Sean Hannity for primetime ratings dominance, though Hannity still remains on top most nights.
Stephen Colbert's anti-Trump content has often bordered on unhinged and vulgar and has even hinted toward violent fantasies.
He has called President Trump a "racist, horny old burger-goblin who literally steals children from poor people," and last year, the former Colbert Report host depicted White House advisor Stephen Miller with his head on a stick.
The 54-year-old host also flashed a Nazi salute on-air in September 2017.
President Trump hasn't dedicated much time to worrying about these late-night hosts, however he has occasionally commented on them.
At a rally in South Carolina in June, Trump called Colbert a "lowlife."
As for Fallon, Trump said he was "a nice guy," adding, "He's lost. He's like a lost soul."
http://feedproxy.google.com/~r/breitbart/~3/qGkONunkNLo/