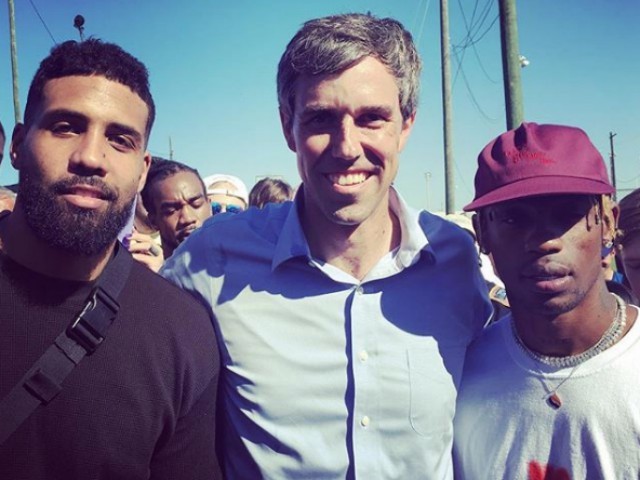 Rapper Travis Scott campaigned for Texas Senate candidate Beto O'Rourke at an event in Houston this weekend, urging fans to "go out, hit these polls, attack these polls."
According to The Houston Chronicle, Travis Scott campaigned for Beto O'Rourke, saying, "On Nov. 6, man, we just trying to take Texas all the way up."
"So Beto, we gonna take it all the way up. Texas make some noise and get out their and vote!" he said, also telling fans, "All the kids, we just need to go out, hit these polls, attack these polls."
Travis Scott was out in south Houston promoting Beto today! #VoteWithBeto pic.twitter.com/kVitLHFwRD

— SwaggyP (@peytonrfane) October 28, 2018
O'Rourke thanked Scott as well as former football player Arian Foster in an Instagram post.
"Big thanks to Houston's @travisscott and @arianfoster for joining us to spread the word about voting," he wrote.
O'Rourke's campaign, despite lagging behind Ted Cruz, has received a ton of attention and support from celebrities.
Jimmy Kimmel and Rosie O'Donnell have donated thousands of dollars to his campaign, as have Chelsea Handler and Sarah Jessica Parker.
This plays into Hollywood's larger role of influencing races across the nation in the upcoming midterms in support of Democrats.
According to one report, 99.7 percent of donations from Hollywood executives have gone to Democratic candidates or pro-Democrat PACs.
http://feedproxy.google.com/~r/breitbart/~3/7PVvd_yUczg/