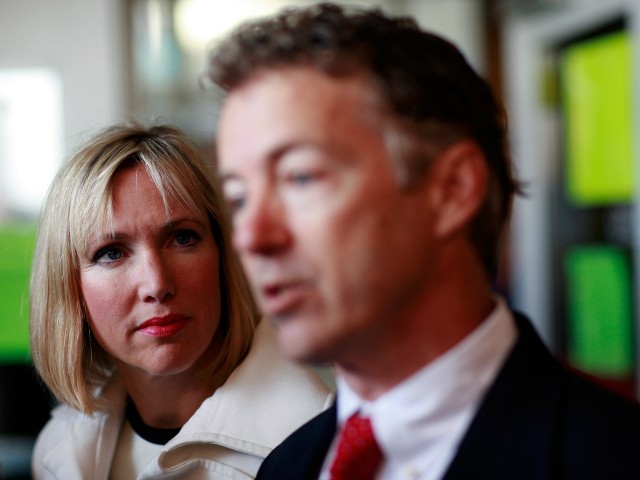 Sen. Rand Paul's (R-KY) wife, Kelley, wrote an open letter to Sen. Cory Booker (D-NJ) expressing her anguish over the harm done to her husband and the "horrifying" threats the family has faced, which she said Booker encouraged when he told President Trump's detractors to use acts of intimidation against the president's supporters.
Kelley began her letter, which CNN published, by telling Booker that she is comforted by the police patrols assigned to their Kentucky home.
Booker has also told people opposed to Trump's Supreme Court nominee, Brett Kavanaugh, to "get up in the face of some Congresspeople."
The latest threat against the Rands came as someone put the senator's cell phone number online. Kelley wrote:
I now keep a loaded gun by my bed. Our security systems have had to be expanded. I have never felt this way in my life.

In the last 18 months, our family has experienced violence and threats of violence at a horrifying level. I will never forget the morning of the shooting at the congressional baseball practice, the pure relief and gratitude that flooded me when I realized that Rand was okay.

He was not okay last November, when a violent and unstable man attacked him from behind while he was working in our yard, breaking six ribs and leaving him with lung damage and multiple bouts of pneumonia.
Mrs. Paul cited examples of Democrats making light of the threats her family has faced, including Kentucky's Secretary of State Alison Lundergan Grimes, who joked about the attack in a speech, and celebrities such as Cher and Bette Midler, who expressed support for his attacker.
"I hope that these women never have to watch someone they love struggle to move or even breathe for months on end," Mrs. Paul wrote in the letter.
She wrote that someone confronted her husband at an airport, putting a "middle finger in their face, screaming vitriol."
After expressing respect for Booker, whom she said has worked successfully with her husband on issues in the Senate, Mrs. Paul called on him to publicly retract his statement encouraging such confrontations.
"I would call on you to condemn violence, the leaking of elected officials' personal addresses (our address was leaked from a Senate directory given only to senators), and the intimidation and threats that are being hurled at them and their families," Mrs. Paul concluded.
United States Capitol Police (USCP) arrested a suspect on Wednesday for allegedly posting private and identifying information (doxing) on Wikipedia about Republican senators last week, shortly after Christine Blasey Ford's testimony before the Senate Judiciary Committee that Kavanaugh had sexually assaulted her at a high school party decades ago.
Jackson A. Cosko, the man arrested, is a Democrat who has worked with several Democrat lawmakers, including Sens. Maggie Hassan of New Hampshire and California's Barbara Boxer, who is retired. 
Cosko was most recently listed in the Senate directory phone book as Hassan's "legislative correspondent/systems administrator." 
Fox News reported that Cosko either worked or was an intern for Sen. Dianne Feinstein (D-CA), the lawmaker who received a letter from Ford accusing Kavanaugh of misconduct but which she did not make public until after his confirmation hearings.
Follow Penny Starr on Twitter.
http://feedproxy.google.com/~r/breitbart/~3/vFgtKlhF39U/