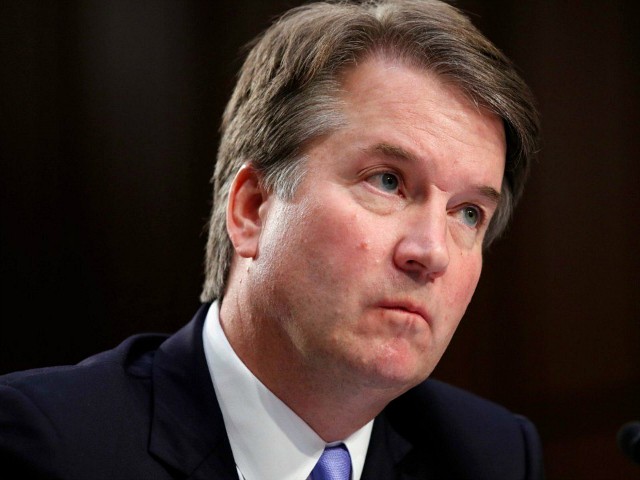 WASHINGTON, DC – The second woman accusing Judge Brett Kavanaugh of inappropriate drunken behavior, Deborah Ramirez, admits "significant gaps in her memories" regarding the college party in question. Critics note her allegations come after six days of consulting with a Democratic lawyer, other persons she claims were at the party deny her account, and even her college best friend admits, "I never heard of it."
Despite focused efforts by Democratic political operatives and left-wing lawyer Debra Katz, the recent account of Christine Blasey Ford appears to be unraveling. Each of the four people she claimed to be present at a 1982 party where she claimed an intoxicated 17-year-old Kavanaugh groped her have either denied her account or said they have no knowledge of it.
As that line of attack on President Donald Trump's Supreme Court nominee falters, another Democrat-supported accuser has suddenly emerged.
While allegedly heavily drinking in 1983 at a party when she and Kavanaugh were freshmen at Yale, Ramirez told the New Yorker that she "became inebriated" and "was on the floor, foggy and slurring her words" during the event in question.
"Ramirez acknowledged that there are significant gaps in her memories of the evening," the left-wing magazine explains. "Her memories contained gaps because she had been drinking at the time of the alleged incident." However, after she had been coached for six days by a lawyer who is a former Democratic local elected official, "Ramirez said that she felt confident enough of her recollections to say that she remembers Kavanaugh had exposed himself at a drunken dormitory party."
Individuals she said were present at the time deny her accusations today, the New Yorker acknowledges. "One of the male classmates who Ramirez said egged on Kavanaugh denied any memory of the party. 'I don't think Brett would flash himself to Debbie, or anyone, for that matter,' he said."
"I have no recollection," said a second person she claimed was an eye-witness.
The New Yorker admits that it "has not confirmed with other eyewitnesses that Kavanaugh was present at the party."
Four Yale graduates who were friends with both Kavanaugh and Ramirez said "with confidence" if the episode had ever occurred, they "would have seen or heard about it—and we did not." They add that it "would be completely out of character for Brett," and the first Ramirez said anything about it was when Kavanaugh was nominated for the Supreme Court.
"This is a woman I was best friends with. We shared intimate details of our lives," added another woman, whose wedding both Ramirez and Kavanaugh attended. "And I was never told this story by her, or by anyone else. It never came up. I didn't see it; I never heard of it happening."
Kavanaugh is also denying the allegation:
This alleged event from 35 years ago did not happen. The people who knew me then know that this did not happen, and have said so. This is a smear, plain and simple. I look forward to testifying on Thursday about the truth, and defending my good name – and the reputation for character and integrity I have spent a lifetime building – against these last-minute allegations.
The White House is standing by Kavanaugh. Officials note that Sen. Mazie Hirono's (D-HI) quote in the New Yorker story shows that Democratic senators are colluding with media outlets to create news stories against the judge instead of working with the Senate Judiciary Committee when they become aware of issues.
Outside groups are likewise pushing back hard against this latest attack. Judicial Crisis Network Chief Counsel Carrie Severino said in a statement:
Senate Republicans must not allow unsubstantiated and discredited allegations from over three decades ago to destroy the life and reputation of a good man. Countless people from every phase of Brett Kavanaugh's life have testified that he is a good man of the highest character and integrity. Chuck Schumer vowed to oppose Kavanaugh with everything he's got, and apparently that took the form of character assassination. This has all of the ingredients of a smear campaign on steroids. Senate Republicans should stand up to these unsubstantiated and discredited allegations and move forward with a vote to confirm Kavanaugh.
Chairman Chuck Grassley (R-IA) currently plans to hold a hearing on Kavanaugh's nomination on Thursday, September 27.
Ken Klukowski is senior legal editor for Breitbart News. Follow him on Twitter @kenklukowski.
http://feedproxy.google.com/~r/breitbart/~3/AgEi2bPd2iY/