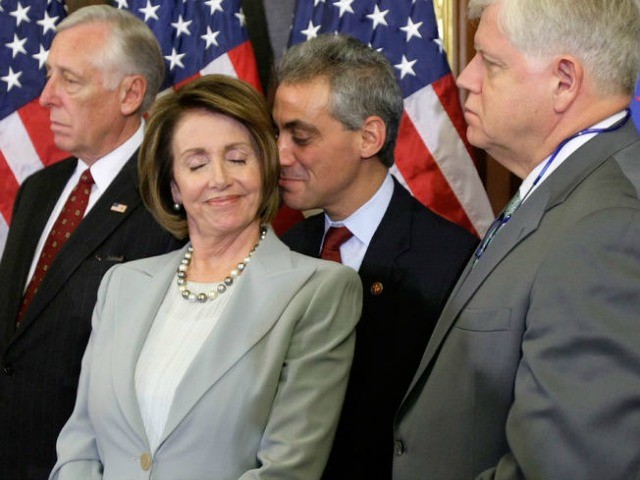 Chicago Mayor and former President Barack Obama's chief of staff Rahm Emanuel on Wednesday endorsed House Minority Leader Nancy Pelosi's (D-CA) bid to regain her Speakership.
Saying "this is no time to have a rookie" dealing with Senate Majority Leader Mitch McConnell (R-KY) and President Donald Trump, Emanuel praised Pelosi as someone who is "as tough and cagey as McConnell is ruthless and Trump is unprincipled."
"I have worked with Nancy Pelosi in Congress, and I have clashed with Nancy Pelosi as White House Chief of Staff. I know a tough negotiator when I see one, and I have the utmost respect for Leader Pelosi and her strengths," Emanuel said in a statement. "As we prepare to head into one of the most consequential Congresses in modern history, and one of the most important presidential elections in American history, this is no time to have a rookie sitting across the table from Mitch McConnell or Donald Trump or both. Nancy Pelosi is as tough and cagey as McConnell is ruthless and Trump is unprincipled. It is time for a Speaker that can go toe-to-toe with both of them in support of Democratic values. Rookies need not apply. Let's keep our eye on the prize."
Emanuel, who helped Democrats recruit candidates to take back the House in the 2006 midterm elections, reportedly dreamed of becoming the first Jewish House Speaker. When Emanuel was at the White House, he also clashed with Pelosi over how aggressively to push Obamacare legislation, which Pelosi eventually rammed through the House for Obama.
As Pelosi fends off anti-Pelosi Democrats who are intent on blocking her from regaining her Speakership on the first ballot, many Democrats, even those who have clashed with Pelosi in the past, are making the argument that now is not time for an amateur, especially when Democrats have numerous high-stakes investigations of the Trump administration planned for the next Congress.
On Tuesday, Obama also praised Pelosi's for mastering the "nuts and bolts" and "the blocking and tackling involved in actually getting things across the finish line."
"I think Nancy Pelosi, when the history is written, will go down as one of the most effective legislative leaders that this country's ever seen," Obama added.
I have worked with @NancyPelosi in Congress, and I have clashed with Nancy Pelosi as White House Chief of Staff. I know a tough negotiator when I see one, and I have the utmost respect for Leader Pelosi and her strengths. Full statement: pic.twitter.com/3R4YHgLi0q

— Mayor Rahm Emanuel (@ChicagosMayor) November 21, 2018
http://feedproxy.google.com/~r/breitbart/~3/CWd2TP75QjA/