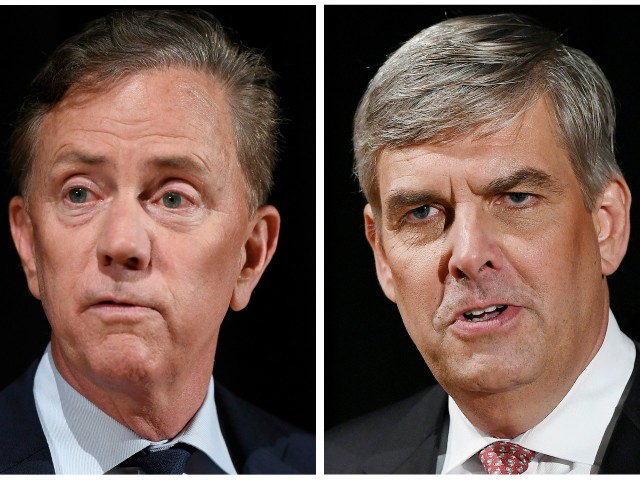 Connecticut Democrat Ned Lamont and Republican Bob Stefanowski are in a gubernatorial race that is now "too close to call," says a Quinnipiac University poll.
Lamont is currently leading Stefanowski, 47-43 percent, in the poll, released Tuesday, of 1,201 likely Connecticut voters. The poll's margin of error is plus or minus four percentage points.
Oz Griebel, an Independent candidate, received 7 percent of poll participants' votes.
"This race is looking a lot like the last two elections for governor in Connecticut – a real nail-biter," said Quinnipiac University Poll Director Douglas Schwartz, PhD, in a press release.
In an October 10 Q-poll, Lamont lead Stefanowski, 47-39, with 11 percent for Griebel.
"Independent candidate Oz Griebel is no longer in double digits," Schwartz commented further. "Will he end up fading by Election Day, as often happens to third party candidates? If so, that could end up benefitting Democrat Ned Lamont, who is the second choice of Griebel voters."
Last week, a Sacred Heart University and Hearst Connecticut Media Group poll also found Lamont and Stefanowski in a statistical tie. The survey found 39.5 percent of likely voters support Lamont, while 36.1 percent favor Stefanowski. That poll, which has a 4.3 percent margin of error, also showed that 8.4 percent back Griebel, and 14.8 percent are unsure whom they support.
Lamont, who is running for governor for the second time, stands for establishing electronic tolls on the state's highways, addressing human-induced climate change, more restrictive gun laws, investing more money in public schools, a $15 minimum wage, paid family and medical leave, and raising taxes on the wealthy.
Stefanowski, a political outsider who was a former chief financial officer of UBS Investment Bank, has made his campaign about rebuilding Connecticut's failing economy, keeping businesses in the state, and ultimately getting rid of the state income tax.
Outgoing Democrat Gov. Dannel Malloy has been one of the least popular governors (71 percent disapproval) in the nation, largely due to the state's substantial fiscal crisis. In his wake, Malloy leaves total unfunded liabilities and debt in the amount of $87 billion and a $1.9 billion budget deficit for fiscal year 2020, followed by a $2.5 billion deficit in 2021, according to Yankee Institute for Public Policy.
http://feedproxy.google.com/~r/breitbart/~3/5N_mLLcTuqY/