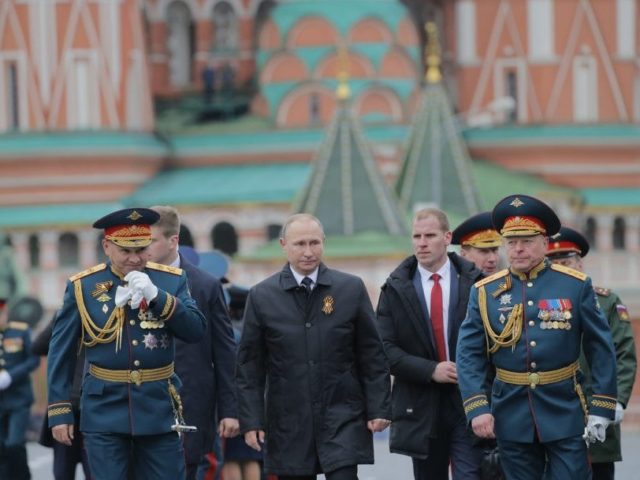 Russian President Vladimir Putin threatened an arms race with the United States on Tuesday if the Trump administration follows through on its pledge to pull out of the intermediate-range nuclear forces (INF) treaty.
On Monday, Secretary of State Mike Pompeo issued a 60-day ultimatum for Russia to correct its "material breach" of the treaty, negotiated between President Ronald Reagan and former Soviet leader Mikhail Gorbachev towards the end of the Cold War.
In the treaty, signed in 1987, both sides agreed to eliminate all ground-launched ballistic and cruise missiles with ranges of between 300 to 3,500 miles, although the U.S. now believes that Russia has developed such weaponry as they develop their military assets. Speaking to journalists on Wednesday, Putin claimed that the U.S. provided "no evidence" of Russian violations.
"Apparently, our American partners believe that the situation has changed so drastically that the U.S. should also have such weapons," Putin said in remarks carried by the Interfax news service. "What response is our side to give? A simple one: then we'll do the same."
President Donald Trump's National Security Advisor John Bolton led the charge to exit the treaty and recently ordered the Pentagon to "develop and deploy ground-launched missiles at the earliest possible date."
In October, Bolton traveled to Moscow for a meeting with Vladimir Putin and other senior Russian officials. After the meeting, he claimed Russian officials understood his reasons for canceling the agreement.
"It's Russian violations of the treaty, in our view, that has gotten us this to this point, and it's something that's been going on for five years, if not more," he at the time.
"I think they understand our reasons quite clearly, some of which I think they might fully appreciate from their own strategic perspective," he continued. "I think their preference is that they have stayed in this and we do not withdraw, but we are giving them the reasons why we are going do it."
On Tuesday, Russian Defense Minister Sergei Shoigu also pledged to hold over 4,000 military drills and around 8,500 practical combat training events in 2019, in what he said would be an "extremely busy" year for the country's military.
This week, Fox News published images of Russian forces deploying additional S-400 surface-to-air missile batteries at an airbase in Crimea. The deployment followed the recent confrontation after Ukrainian navy ships entered Crimean waters.
The incident and consequent military build-up have raised fears that Russia may be planning to invade the country, although Putin has played down the incident as "nothing more" than a border dispute.
http://feedproxy.google.com/~r/breitbart/~3/fdlQBXqq0R0/