Chinese Communist Party leader Xi Jinping received a frigid welcome in the Philippines on Tuesday as hundreds of protesters circled the Chinese embassy in Manila and others took to attacking Xi on social media for launching a colonization campaign in Philippine territories of the South China Sea.
Under Xi, the Chinese government has constructed artificial islands in the reefs of the Spratly Island chain, shared by the Philippines and Vietnam, and equipped them with advanced military and surveillance facilities. The Permanent Court of Arbitration at the Hague ruled in 2016 in favor of Philippine sovereignty over the territory and branded China's actions illegal; China responded by ignoring the ruling.
Since President Rodrigo Duterte took office in the Philippines in 2016, Manila has eased on challenging China in the region. In an opinion piece published in several Philippine outlets on Monday, Xi Jinping declared that the dispute was officially over and China and the Philippines were enjoying the "rainbow after the rain."
Xi's visit is the first by a Chinese leader to the country in 13 years. The Chinese state propaganda newspaper Global Times celebrated the visit as a meeting between "friendly neighbors across the sea" and quoted Xi as proclaiming that, "since Philippine President Rodrigo Duterte took office … China and the Philippines have reopened the door of friendship and cooperation to each other."
"As I start this visit, I look forward to meeting with President Duterte for an in-depth exchange of views on how to further strengthen China-Philippine relations and on regional and international issues of mutual interests," Xi reportedly said.
Duterte's government made clear it had no intention of challenging China on invading its South China Sea territories. Asked if the Hague ruling was "useless" in the eyes of his boss, presidential spokesman Salvador Panelo said "yes."
"Our position is the arbitral ruling says it is ours but, meanwhile, cannot be enforced," he added.
Philippine nationals on social media and the hundreds who organized protests against Xi appear to disagree.
Many Philippine Twitter and Facebook users took to using the hashtag #XiJinPooh and posting images of Xi depicted as the classic cartoon bear Winnie the Pooh, which is illegal in China. The Communist Party banned any online references to Winnie the Pooh in 2017 after users began noticing a similarity between the bear and Xi's portly figure, exacerbated by an online meme comparing a photo of Xi and then-president Barack Obama to Pooh and his friend Tigger. Xi is at the forefront of a global campaign to censor "vulgar" content online, largely defined as content that disapproves of the Chinese Communist Party.
Hey twitter world. Change your pic to Winnie the Pooh if you want to show your displeasure at Xi Jin Ping's visit to Manila. Use hashtag below. #XiJinPooh

— Jim (@Jimparedes) November 19, 2018
#XiJinPing taking over the Philippines be like… pic.twitter.com/udJTuBaKfd

— PCortes (@pingcortes) November 20, 2018
CALL TO ACTION!
CHANGE YOUR PROFILE PICTURE TO WINNIE THE POOH.

This is our act of defiance against the Duterte administration's continued subservience to the Peoples Republic of China and betrayal of our sovereignty.#XiJinPooh #ChinaLayas

(ctto) pic.twitter.com/GIIlB0dMHL

— AltSpox Harry Roque (@AltSpoxHRoque) November 19, 2018
The Philippine Inquirer highlights several popular Xi Jing Pooh memes, including one in which "Pooh bows before a mirror while 'Hail Satan' flashes across the screen and another where Pooh "floats near an artificial island built by Beijing in the disputed South China Sea."
In Manila, protesters took to the streets with signs announcing that Xi was "not welcome" in the Philippines and bearing slogans about defending sovereignty in the South China Sea. According to Australia's SBS, a crowd of 200 protesters organized at Manila's Chinese embassy with signs reading "Philippines not for sale!" and "China out of Philippine waters!"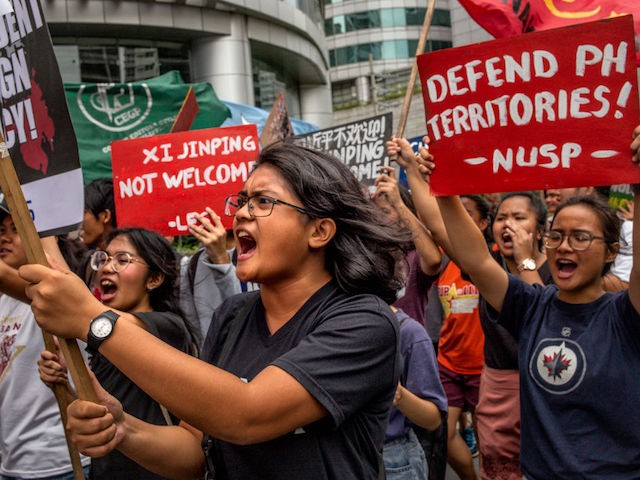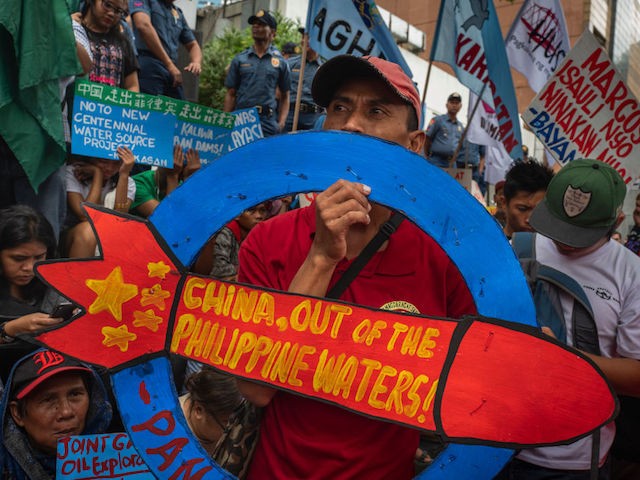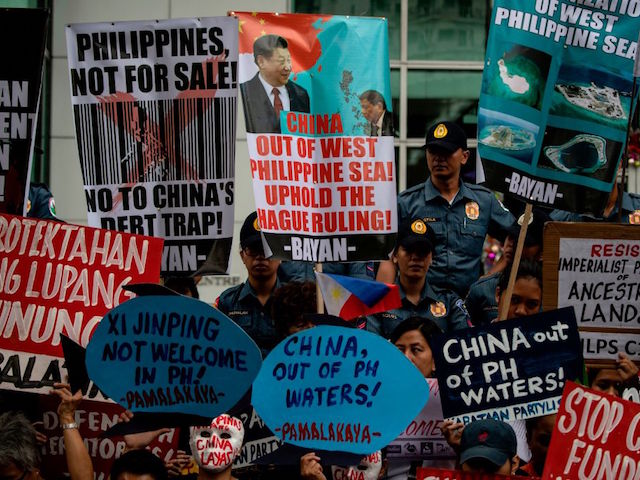 Photos via Getty Images
Opposition lawmakers and other public officials also demanded that Duterte abandon his submissive approach towards China – Duterte has repeatedly claimed he cannot challenge China because its military is too powerful – and defend his country.
"We demand President Duterte to assert and uphold the favorable ruling of the international tribunal in The Hague which recognized the exclusive economic zone in the West Philippine Sea as President Xi Jinping of China arrives in the Philippines,"ACT Teachers Rep. Antonio Tinio said in a statement issued in anticipation of Xi's arrival.
Acting Chief Justice Antonio Carpio also issued remarks condemning Xi's opinion piece in Philippine media, which alleged that a 14th-century Chinese explorer had visited the Philippines, an attempt to lend legitimacy to China's claims in the region. Carpio asserted that the explorer, Zheng He, "never visited the Philippines." Xi and his regime have repeatedly used fabricated ancient and medieval claims to justify their invasion of the South China Sea.
At press time, the Duterte government appears not to have heeded any of the calls for defiance from the Philippine people. The two countries signed a memorandum of understanding on Tuesday that allows China to explore for oil and gas in the Philippine South China Sea, which allegedly reads that this exploration "shall not affect the respective position on sovereignty and maritime rights and interests of the two parties." Xi has also promised increased Chinese aid to the Philippines "in many forms," including infrastructure development and security.
Follow Frances Martel on Facebook and Twitter.
http://feedproxy.google.com/~r/breitbart/~3/1UPTKUZWMjc/