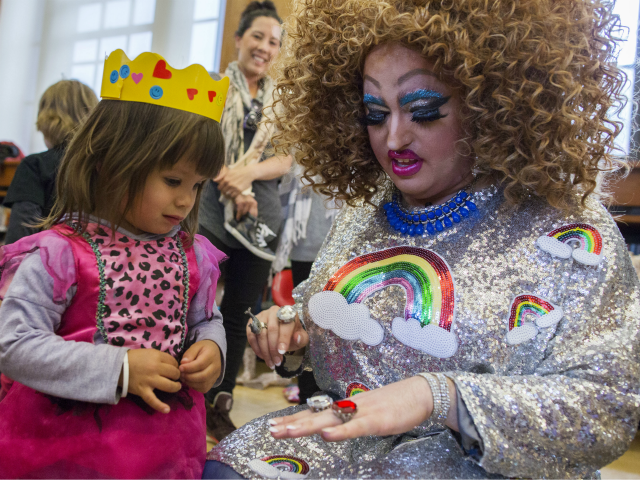 Protesters gathered outside a Long Island, New York, public library Saturday to speak out against the library's decision to host a Drag Queen Story Hour with children as young as four years old.
Dozens of protesters lined up outside the Port Jefferson Public Library, holding signs such as "Honk to Oppose Drag Queen Story Hour," and "Where Is Bible Story Hour?" to protest Saturday's Drag Queen Story Hour—where a drag queen reads stories to young children, News 12 Long Island reported.
"I don't think we should push this ideology and statements to a 4-year-old," Pastor Julio Carrion, of Port Jefferson, told News 12 Long Island. "But if they want to continue the conversation with an adult, I'm here now."
A counter-protester wearing a giant rainbow flag begged to differ with many of the protesters, saying drag queens are merely characters.
"If they don't want their children to be read to by a character—not even a transgender woman—by a drag queen which is a character, like Spiderman, then go away," said counterprotester Roland Hoffman, of Manorville.
Port Jefferson Library officials say they expected protests at the event, but called it a "success" and say they plan on having more Drag Queen Story Hour events in the future.
The Drag Queen Story Hour at the Port Jefferson Library, which was organized by the comedian Harmonica Sunbeam, is one of many Drag Queen Story Hour events around the world have been popping up at public schools and other educational facilities.
In one such event in a Brooklyn, New York, public school, a first-grade teacher who praised the event said the drag queens told her students "there is no such thing as 'boy' and 'girl' things."
http://feedproxy.google.com/~r/breitbart/~3/beIiLLX-2XY/