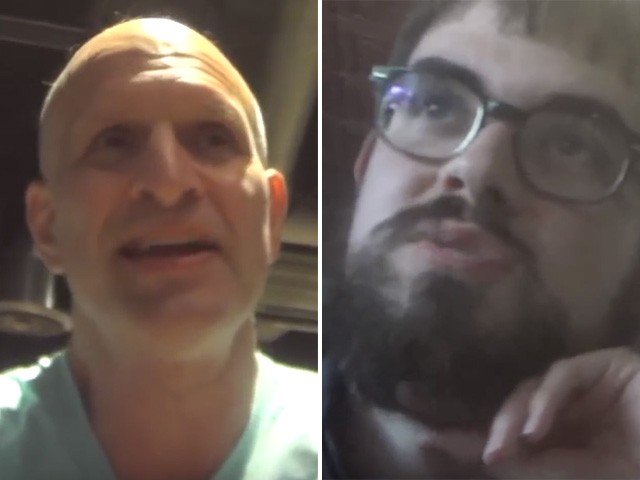 In the fourth installment of Project Veritas' investigative video series into the "Deep State," two subjects identified as Internal Revenue Service (IRS) officials appear to condone the agency's "unjust treatment" of conservative non-profit organizations — and one seems to affirm allegations that the former IRS commissioner appointed by Barack Obama deleted evidence to cover up that scandal.
One of its subjects, identified by Project Veritas as IRS attorney Jerry Semasek, says "mistakes were made" in the agency's handling of the agency's 2013 discrimination scandal, in which multiple 501(c)(4) groups with phrases like "tea party" or "patriots" in their names received extra scrutiny. Judicial Watch, a perennial investigator of the scandal, described it this way: "President Obama's IRS was used against his opponents to help him win reelection."
"The law requires that an organization can't be political, it can't be partisan to be tax exempt… Those employees in Cincinnati Ohio started to separate them and put them in a pile. And it turns out that they were like the Tea Party group of people," Semasek tells Project Veritas, adding, "And I think they did, like Lois Lerner and maybe some of her employees were more liberal-leaning or Democrats so I don't know if they disallowed them, but they required them to produce more documentation to try to prove that they weren't partisan."
In another undercover meetup, Project Veritas shows a man identified as Thomas Sheehy — an IRS tax examiner and member of the far-left group Austin Democratic Socialists of America in Texas — appearing to praise former IRS Commissioner John Koskinen's handling of the scandal, claiming the agency official couldn't be held accountable "because he deleted all the emails."
"Conservatives got really mad at him," Sheehy purportedly says on camera. "He was so cool, though, because he deleted all the emails, so they could not hold any evidence against him."
"Yeah, I don't give a s**t if that is a crime for doing that because… you should give increased scrutiny to those groups because a lot of them are just f***ing fronts for the Koch brothers or whatever," Sheehy said of the move.
Sheehy's reference to "deleted all the emails" recalls allegations from 2015 and 2016, when Republican lawmakers accused Lerner and Koskinen of obstructing justice and destroying subpoenaed evidence. Jason Chaffetz (R-UT) introduced a resolution to impeach Koskinen for "high crimes and misdemeanors." The charges against him included false statements to Congress:
Commissioner Koskinen failed to locate and preserve IRS records in accordance with a congressional subpoena and an internal preservation order. The IRS erased 422 backup tapes containing as many as 24,000 of Lois Lerner's emails – key pieces of evidence that were destroyed on Koskinen's watch.

…

When the agency determined Ms. Lerner's emails were missing, Commissioner Koskinen testified the emails were unrecoverable. These statements were false.
Koskinen never admitted to any intentional wrongdoing or obstruction: "We did not succeed in preserving all of the information requested," he told the House Judiciary Committee. "[A]nd some of my testimony later proved mistaken. I regret both of those failings."
Sheehy's characterization of the episode — "he deleted all the emails" — suggests a more deliberate course of action, though it is unclear whether he has firsthand knowledge to support that description.
In 2017, the Department of Justice (DOJ) settled a class-action suit in response to the IRS's politicized actions. Attorney General Jeff Sessions admitted the Obama administration used "inappropriate criteria to screen applications for 501(c) status" disproportionately affecting conservatives, including requests for "highly sensitive information." However, Sessions declined to prosecute principal players in the scandal like Lerner.
In another exchange, Sheehy appears to suggest he takes advantage of the agency's work benefits, allowing him ample time for socialist political activism.
"I will say, I just really like the benefits. I get a lot of paid time off and sick days," Sheehy says. "So, like, for DSA stuff, I can just honestly… I will just stay late for a period. So, I will just call in for the next day."
Further, Sheehy claims there are other members of Democratic Socialists of America working at the IRS, including a friend of his named "Chris" who helps manage the agency's social media presence. "My friend Chris, like, he does a lot of like tech stuff," Sheehy begins. "He even runs the f**kin', I was looking over his shoulder once at the electoral forum and I noticed that he actually is on the national social media working group. So, he helps run the national Twitter account. He also runs our local Twitter account. He also is one that does all the bylaws and stuff… he also works for the IRS."
Following the release of Project Veritas' fourth installment of its "Deep State" series, founder James O'Keefe said: "As our deep state investigation continues to unfold, four government agencies have responded resulting in the removal of two federal employees from their job duties. Stay tuned to see which Government Agency we unmask next."
http://feedproxy.google.com/~r/breitbart/~3/nIDJbUGjAYY/