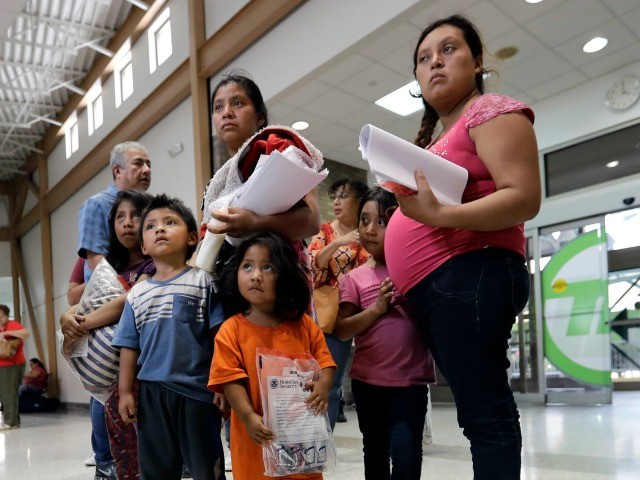 Progressives and media personalities are angrily denouncing President Donald Trump's proposal to end the automatic award of citizenship to the U.S.-born children of tourists and illegal migrants.
The constitution offers birthright citizenship to people who meet two conditions: They are born in the United States and are "subject to the jurisdiction of" the United States.
Conservatives are divided on whether illegals or tourists can grab citizenship for their kids — and also for themselves and their extended families — by birthing a child in the United States. But pro-migration progressives, the establishment media, and business groups are unified in opposition to Trump's pro-American reform.
Establishment media figures rushed to denounce Trump:
ACLU: "This is a blatantly unconstitutional attempt to fan the flames of anti-immigrant hatred in the days ahead of the midterms. The 14th Amendment's citizenship guarantee is clear. You can't erase the Constitution with an executive order, Pres. Trump." https://t.co/9nfqJONTk3

— NBC News (@NBCNews) October 30, 2018
CNN's Jim Acosta jumped in:
The founders set up the constitution so the president can't do what he's proposing to do with birthright citizenship. It's a stunt, like sending the troops to a border for a non-existent invasion.

— Jim Acosta (@Acosta) October 30, 2018
Adam Davidson, a writer for the New Yorker scolded reporters for covering Trump's proposal:
Dear Media, here is the clear truth:

Donald Trump is explicitly seeking to turn America into a white Ethnostate.

He is following an openly racist plan, crafted by open racists.

If you report this story any other way you are not reporting the facts or being objective.

1/

— Adam Davidson (@adamdavidson) October 30, 2018
Democratic politicians denounced Trump:
.@realDonaldTrump's new claim that he can unilaterally end the Constitution's guarantee of citizenship (a power he does not have) shows his desperation to distract from the GOP's attacks on Medicare, Medicaid & people with pre-existing conditions. https://t.co/97WgHjH1fy

— Nancy Pelosi (@NancyPelosi) October 30, 2018
Misusing our armed forces & taxpayer dollars to send troops to the border; Now a cynical assault on Constitution's birthright citizenship. This POTUS will do ANYTHING to shift attn away from his attacks on covering pre-existing conditions & plans to cut Medicare & Social Security

— Sen. Patrick Leahy (@SenatorLeahy) October 30, 2018
The Fourteenth Amendment to the United States is crystal clear: "All persons BORN or naturalized IN THE UNITED STATES, and subject to the jurisdiction thereof, ARE CITIZENS of the United States…"

To deny that citizenship is unconstitutional. https://t.co/jj1ActCXCU?

— Senator Bob Menendez (@SenatorMenendez) October 30, 2018
The Constitution is clear. If Pres. Trump's pre-Election Day ploy to unconstitutionally end birthright citizenship moves forward, we will see him in court.

— NY AG Underwood (@NewYorkStateAG) October 30, 2018
He'll say anything before the election. Don't take the bait. Focus on ending the hate. Hug a kid. Be nice to someone you don't know or agree with. And vote. Please vote. Trump eyeing exec order to end citizenship for children born in U.S. to noncitizens https://t.co/Vb25oITFfs

— Amy Klobuchar (@amyklobuchar) October 30, 2018
AG Ferguson statement on President Trump's intent to end birthright citizenship through executive order: pic.twitter.com/OCIJ84mrVH

— WA Attorney General (@AGOWA) October 30, 2018
Democrats urged each other to ignore the President's proposal, saying he is trying to distract voters from the issues they are pushing in the 2018 election:
Redefining who's American ignores our history as a nation of immigrants and inflames racial tensions — especially after a week of violent hate. It's unconstitutional and merely the president's latest shameful attack on people of color. https://t.co/8ta2yBdY7Z

— Southern Poverty Law Center (@splcenter) October 30, 2018
POTUS can't eliminate a constitutional birthright citizenship by executive order. It's a distraction & it would be harmful to the people and values of our country, which has always been welcoming to immigrants.

This is a political stunt.
Focus.
Vote. https://t.co/vOIayuxfHN

— Voto Latino (@votolatino) October 30, 2018
Trump wants a debate about ending birthright citizenship more than actually doing it. Democrats should say, ok see you in court, now back to your plan to get rid of protections for preexisting conditions.

— Tommy Vietor (@TVietor08) October 30, 2018
Also, business-first Republicans pushed back against Trump, echoing business' demand for greater immigration of cheap workers and government-aided consumers.
"You cannot end birthright citizenship with an executive order." — Paul Ryan, today

— Chris Cillizza (@CillizzaCNN) October 30, 2018
The President is wrong to end #BirthrightCitizenship. I took an oath to defend the Constitution including the 14th Amendment. We're a nation of immigrants made better by the diversity of its people, especially in NJ. We need compassionate comprehensive immigration reform now. -BH

— Bob Hugin (@BobHugin) October 30, 2018
Trump's claim that he can undo birthright citizenship by executive order will be an interesting test of Trump's constitutionalist and originalist supporters: Do they support Trump or the Constitution?

— Bill Kristol (@BillKristol) October 30, 2018
Pro-migration business advocates denounced Trump's plan. For example, Todd Schulte's FWD.US group was funded by Silicon Valley millionaires and billionaires, including Facebook's Mark Zuckerberg:
Anyway: POTUS absolutely cannot eliminate 14th amendment's birthright citizenship clause by exec order. Just like he can't do an executive order barring 18-21 year olds from voting. This is clearly illegal, should be covered as such. It's a political move too. Don't miss that

— Todd Schulte (@TheToddSchulte) October 30, 2018
Amid the progressive backlash, Trump's supporters called for a debate and for Americans to be protected from migrants who use birthright citizenship to grab citizenship for themselves and their extended families:
"It's time to stop allowing people to take advantage of certain loopholes" –@DiamondandSilk react after President Trump is reportedly planning to end birthright citizenship pic.twitter.com/jc4aTwNmV2

— FOX & friends (@foxandfriends) October 30, 2018
Some centrist journalists pushed back against the establishment. For example, Breitbart News' John Carney posted links to legal opinions which argue that illegals and visitors are not covered by the "subject to the jurisdiction" clause:
You want more citations. Here you go.

Judge Posner: https://t.co/0cEf3ob0id

Lino Graglia: https://t.co/sqrHlJeQlQ

Gerald Walpin https://t.co/luNC1VSpc5

John C. Eastman https://t.co/Pe35HOkbQI

William Ty Mayton https://t.co/2Gl10K4of6

— John Carney (@carney) October 30, 2018
Richard Posner doesn't think you need a constitutional amendment to end birthright citizenship. pic.twitter.com/f5loHJlyWw

— John Carney (@carney) October 30, 2018
Pro-American reformers say they want a debate and a compromise which protects Americans:
.@RameshPonnuru was right a while back to counsel humility in asserting what 14th Amend. meant to its framers: https://t.co/1bz0885tc4 I'd prefer Australian approach: no cit'ship at birth for kids of tourists/illegals, but they get it if they live there for 1st 10 years of life.

— Mark Krikorian (@MarkSKrikorian) October 30, 2018
Whatever you think of automatic citizenship for children born to tourists & illegals, Trump's Exec Order is long overdue — we need a SCOTUS ruling on the meaning of "subject to the jurisdiction" in the 14th Amendment. Only then can we know whether another amendment is needed.

— Mark Krikorian (@MarkSKrikorian) October 30, 2018
Read more here.
http://feedproxy.google.com/~r/breitbart/~3/jjmxDE-xVQg/