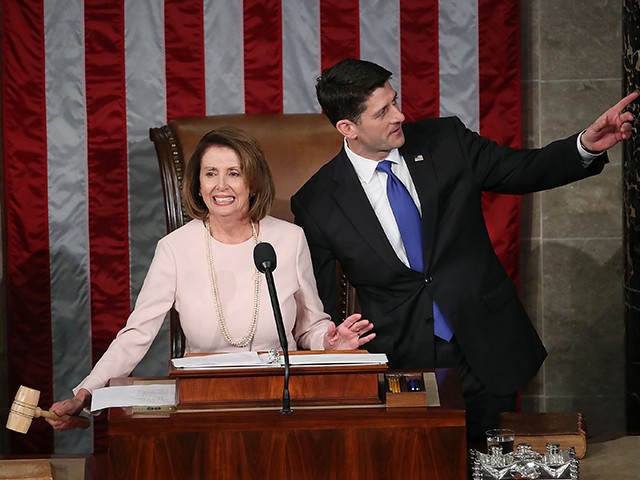 Businesses and progressives, Democrats and Republicans, will try to sneak a bipartisan amnesty bill through Congress' lame-duck session in December as voters are distracted by Christmas, say pro-American immigration reformers.
"This is why they come back for a lame duck — so they can accomplish all the things they could not do when the voters' eyes on them," said Rosemary Jenks, the director of government relations for NumbersUSA.
The lame-duck session is scheduled for December because GOP and Democratic leaders stalled 2019 spending bill for the Department of Homeland Security and the border wall. Without 2019 funding, some subsidiary DHS offices will close in December.
One huge danger ahead, said Jenks, is that retiring House Speaker Paul Ryan will push an amnesty bill to help Wall Street and the cheap-labor lobbyists in Washington. "I fully expect that Paul Ryan will do as much as he possibly can on his way out the door because he is just on the other side" of the public's preference for a low-immigration, high-wage, economic policy, she said. 
"The big fear is that we go back into [White House] talks about exchanging DACA for a border wall," she said. "That is not acceptable because a wall [alone] is not going to have a significant impact on illegal immigration." For example, cartel smugglers advise their illegal-migrant clients to claim asylum and to bring children, because those tactics trigger the catch-and-release loopholes which allow migrants to walk through the existing fences and into U.S. jobs, she said. 
"A [wall-for-DACA] deal like that would just set us for the next amnesty" once more migrants rush their children across the border to declare them as the next generation of DACA migrants, she said.
The Democrats' no-strings DACA deal would put roughly 3 million resident illegals on a fast-track to citizenship and the ballot-box, and also allow the new immigrants to bring millions of their family members via unreformed chain-migration rules. 
The wall-for-DACA deal is damaging, which is "precisely why [Sen. Chuck] Schumer and [Rep. Nancy] Pelosi were willing to go along with it last time," she said. 
An amnesty-for-wall deal is not needed.
President Donald Trump has repeatedly said he expects to get another $1.6 billion for border-fence funding in December. That number will bring his total spending on the wall up to $4.8 billion in three years.
Also, Trump's "Hire American," no-amnesty policies are successfully pushing voters' wages up before the 202o elections. Wages are rising because CEOs complain they cannot hire additional cheap legal immigrants or visa workers — and because they increasingly risk prosecution if they hire even cheaper illegal migrants.
Trump celebrates rising wages caused by his growing economy & his immigration curbs. Next: Will Trump decide that well-paid & happy voters are better for his 2020 relection race than happy donors? https://t.co/nZnFtywTr1

— Neil Munro (@NeilMunroDC) November 2, 2018
Also, Trump is using the no-cost experts and rules provided by former Attorney General Jeff Sessions to help curb border migration.
But CEOs will push for a last-minute December amnesty because the push will cost them nothing to try, because they want to flood the labor market to stall Americans' rising wages, and because they are losing many of their House GOP supporters in January.
Roughly half of the GOP's 34 legislators who openly backed business-backed amnesty measures in 2017 and 2018 will be gone from Congress in January, according to a survey by Breitbart News. The legislators will be gone because they were defeated by Democrats or because they retired before the election.
The roughly 16 exiting legislators include Virginia's Rep. Scott Tayler, Florida's Chris Curbelo, Utah's Mia Love, Pennsylvania's Charlie Dent, Colorado's Mike Coffman, New Jersey's Leonard Lance, Texas Joe Barton, and several others.
The pro-amnesty GOP legislators backed a Discharge Petition in May 2018 which threatened to let Democrats pass a huge pro-amnesty bill in Ryan's House, or signed a pro-amnesty letter in December 2017 which called for a no-strings amnesty for roughly 3 million 'DACA' illegal immigrants.
The two pushes were backed by many business donors, via such groups as the Congressional Leadership Fund and FWD.us, a lobbying group for West Coast investors, including Mark Zuckerberg.
Both amnesty pushes were used by Ryan and his deputies to zig-zag towards an amnesty bill. Ryan's plans crashed in June when 111 GOP legislators voted against his draft amnesty bill. A pro-American version of the reform bill, drafted by Rep. Bob Goodlatte, was blocked by 41 business-first GOP legislators, with the tacit approval of Ryan.
Retiring Ryan has been a strong advocate for a cheap-labor amnesty for many years, along with several of his top allies, including Texas Rep. Pete Sessions, a business-first legislator who runs the critical rules committee.
But Ryan is retiring, and Sessions was defeated in his immigrant-heavy Dallas County district after 22 years in Congress. "In 2010, I was proud to lead the effort to bring in a wave of conservatism and put our country on the path towards economic prosperity," Sessions said in his concession speech. "Unfortunately, that success was not enough to stem the liberal tide of people who have moved here from across the country."
Another group of GOP legislators quietly backed Kansas Rep. Kevin Yoder's July 25 push to provide fast-track green cards to roughly 300,000 Indian and Chinese visa-workers and their families.
The green-card giveaway was added in a surprise last-minute move by Yoder to the 2019 spending bill for the Department of Homeland Security. The Yoder giveaway was combined with a rollback of border security, plus an expansion of H-2A and H-2B work-visas for farmers and the landscaping industry, and it was sweetened with the promise of $5 billion for a border wall. GOP legislators knew Yoder's measure was unpopular, so they approved it via an anonymous, unrecorded voice-vote.
Those Yoder provisions are in the House spending bill. Some form of the DHS bill must be approved by the House and merged with the Senate funding bill.
Yoder used the promise of a green-card giveaway to win votes from Indian immigrants in his Kansas district — but he was defeated by a massive turnout of American college-graduate voters who would lose jobs and salaries to Yoder's wave of college-grad outsourcing workers. Yoder's campaign was publicly opposed by a group of U.S. professionals who rented billboards in his district.
"Somebody should learn some kind of lesson from" Yoder's defeat, Jenks said. But, she added, the pro-amnesty GOP legislators "don't normally learn lessons from anything."
Democrats also fail to recognize that voters dislike cheap-labor amnesties. In 2014, Schumer lost nine Senate seats after pushing the 2013 "Gang of Eight" amnesty. After that experience, he quickly ended his pro-amnesty plan in January to block government funding once overnight polls showed it was very unpopular.  
In the House, yet more GOP legislators pushed hard for a new "H-2C" work visa program that would allow their farm-district supporters to hire foreign farmworkers for much less than they have to pay to use the fast-growing H-2A farm-worker visa.
The H-2C push was largely blocked by West Coast agribusiness groups who are closely allied to Democrats. In turn, Democratic legislators want at least 1 million illegal farm-workers to get a fast-track to green cards and citizenship.
The temporary failure of the H-2C push is now forcing farms and dairies to pay higher salaries to their existing workforces and to buy additional farm machinery from American factory workers.
Jenks' fear is that the various pro-amnesty GOP legislators who support the DACA amnesty, the green-card giveaway, the H-2B expansion, and the H-2C program may be united by Ryan and Trump in December for another dash towards a big bipartisan cheap-labor amnesty in exchange for a wall that cannot stop savvy asylum-seeking economic migrants.
"You can hear the bipartisan talk about 'solutions' now," said Jenks. "That is never good on immigration."
Washington knows the Democrats will be running the House next year, Jenks said. "It is now a matter of stopping bad deals … that is what we need [GOP legislators] to focus on."
http://feedproxy.google.com/~r/breitbart/~3/MG6sYnUtYRQ/