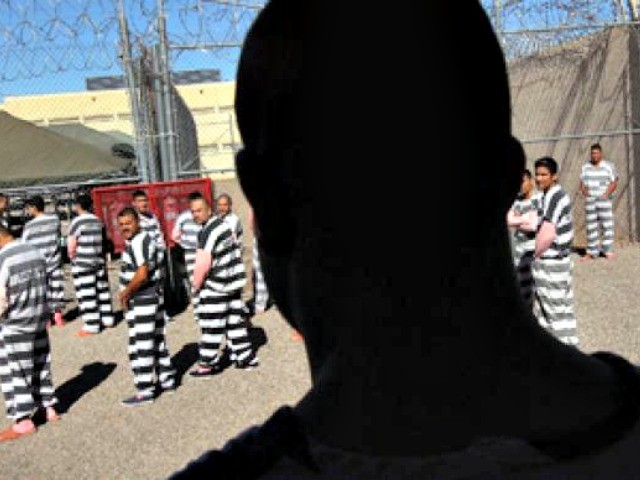 A prison reform plan supported by both political establishments, the billionaire Koch brothers, the ACLU, and President Trump will make it more difficult to deport criminal foreigners in United States prisons, experts say.
Center for Immigration Studies fellow and former Immigration and Customs Enforcement (ICE) official Dan Cadman writes that the Trump-endorsed First Step Act will make it more difficult for federal officials to deport criminal foreigners from the U.S.
In his analysis, Cadman explains that the prison reform plan allows criminal illegal aliens, immigrants, and nonimmigrants to rack up "good time" credits to receive an early release from prison until their final order of removal is obtained.
The prison reform bill also allows criminal illegal aliens who have repeatedly re-entered the U.S. illegally to participate in programs to reduce their time in prison.
Cadman writes:
First, until the final order is obtained, they continue accruing that good time. Consider that such proceedings, conducted under the Institutional Hearing Program, are dependent on the availability of immigration judges, plus the time and money to send them on such details. To be cost-effective for BOP, for the judges, and for Homeland Security agents, this means lining up a host of such hearings at a single time. Thus, Institutional Hearing Program (IHP) proceedings may only take place every several months. The language also doesn't take into account that an alien may seek judicial review of the immigration judge's order in a federal circuit court of appeal. Even if the appeal is frivolous, until it's disposed of, the removal order isn't final and the alien continues to accrue good time credits. [Emphasis added]

Second, consider that the language prohibiting participation in time-reduction programs (which is admittedly technical) only applies to aliens who are being charged as removable for certain crimes. Ironically, those crimes don't include aliens in prison for some immigration offenses — such as individuals who have repeatedly reentered the United States after having been removed. What sense does it make to incentivize more future illegal reentries by reducing their sentences for participating in "recidivism reduction" programs when they've already shown themselves to be recidivists and scofflaws? [Emphasis added]
The prison reform plan, as noted by Cadman, will also allow criminal illegal aliens to be placed in prisons that are within 500 miles of where they were illegally residing and allows deportable criminals to be considered as "low risk" so they can be allowed to stay in home confinement rather than finishing out their sentence in prison.
Another element of the First Step Act is to collect enormous amounts of data on the prison population. But, when it comes to collecting data on the criminal foreign prison population, the legislation only requires that the total prison headcount of criminal foreigners be tallied.
Questions regarding the criminal foreign population's age, gender, nationality, criminal offense, and immigration status would continue to go unanswered and unrecorded for the public.
Among the conservative beltway, there is a concerted effort to get Trump-supporting pundits and organizations on board with the First Step Act, despite concerns from the law enforcement community about the legislation.
In August, Cadman wrote that he had been notified by a Trump administration official who allegedly scolded him for criticizing the prison reform plan and asked him to stop:
Shortly after my analysis was published I experienced proof that there were White House pressures at work to move the bill forward: I myself received a phone call from a highly placed administration official who chided me for my irresponsible piece and assured me that some of what I perceived as flaws really only reflected the status quo (such as availability of prison reintegration programs for deportable illegal alien prisoners), and/or intimated that the other matters would be dealt with by amendments so I shouldn't worry. This official ended by suggesting that if I felt the need to write further on the bill, I should contact the official's office first. [Emphasis added]
The plan has been heralded by the New York Times editorial board as a bipartisan effort between the Republican establishment and the Democrats. Sen. Tom Cotton (R-AR), has refused to back down on his opposition to the prison reform effort, despite attacks from his colleagues.
Nearly 95 percent of foreign nationals in federal prison are illegal aliens,while the Bureau of Prisons data has revealed that about 1-in-5 inmates are foreign-born. There are close to 40,000 criminal illegal and legal immigrants incarcerated in federal prisons across the country, making up about 21 percent of the total federal prison population. Nearly all of those inmates are from Central and South America, resulting in a cost to U.S. taxpayers of about $1.4 billion every year.
John Binder is a reporter for Breitbart News. Follow him on Twitter at @JxhnBinder. 
http://feedproxy.google.com/~r/breitbart/~3/hXdiSlAsYM4/