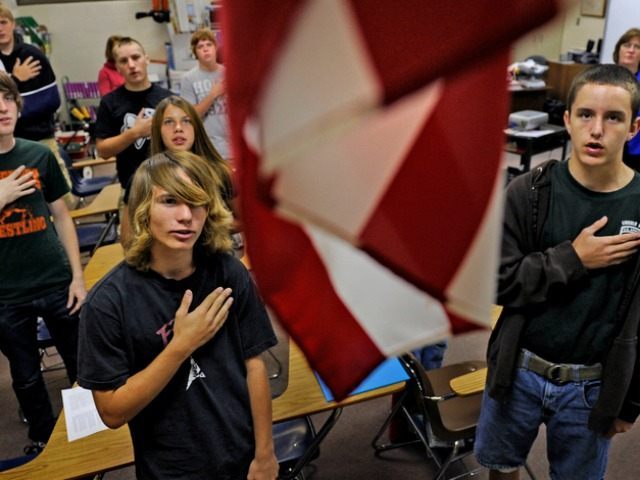 A Virginia high school principal apologized after a plan to have students recite the Pledge of Allegiance in Spanish was poorly received.
The principal at Westfield High School in Chantilly, Virginia, made the apology after receiving pushback from upset parents who discovered their children had been asked to recite the pledge in Spanish.
The school administrator initially planned for native speakers of foreign languages—such as French or German—to lead the student body in the recitation of the pledge in other languages.
"A school administrator suggested students lead the pledge in Spanish to promote engagement and inclusion," Fairfax County Public Schools told Fox 5 DC. "Administrators believed this was an opportunity for other voices and languages to be heard and recognize the school diversity."
The school district said the initiative was supposed to last for two days before the Thanksgiving holiday, but some parents are suggesting there was more to the story.
"They had a native Spanish speaker read it Tuesday. End of the school day Tuesday afternoon, the principal comes on and said, 'He was sorry.' He was sorry and didn't want it to be offensive," said parent Stephanie Somers, whose son is a senior at the high school.
Other high schools implementing similar initiatives to recite the pledge in foreign languages have had to issue apologies to parents.
In 2015, one upstate New York public school issued an apology for asking its students to recite the pledge in Arabic after Jewish families and families who lost loved ones in the Afghanistan war complained.
http://feedproxy.google.com/~r/breitbart/~3/wxn-LSgK070/