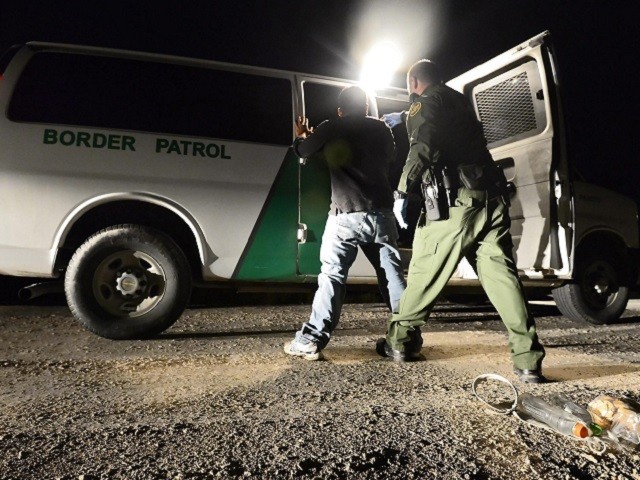 Border Patrol agents in Arizona arrested a previously deported rapist after he illegally re-entered the U.S. from Mexico. Immigration officials deported the Salvadoran national in 2013 following a conviction in New York for second-degree rape.
Yuma Sector agents came upon an illegal immigrant while patrolling in the Andrade, California, area after he illegally crossed the border from Mexico Saturday night, about two miles east of the Andrade Port of Entry. The agents arrested and took him to the Yuma Station for processing and a biometric background check, according to Yuma Sector Border Patrol officials.
During processing, the agents identified the man as a Sogel Robles-Gonzalez, a 33-year-old previously deported criminal alien from El Salvador. Officials said the Salvadoran national received a conviction for second-degree rape in Suffolk County, New York, in 2009 and is a registered sex offender. Following his prison sentence, U.S. Immigration and Customs Enforcement (ICE) Enforcement and Removal Operations (ERO) officers deported Robles-Gonalzez in 2013 via Phoenix International Airport, officials stated.
Robles-Gonalzez now faces new federal charges for illegal re-entry after removal as a convicted sex offender. If convicted on the charge, the Salvadoran national could spend up to 20 years in federal prison.
Yuma Sector Border Patrol agents face an increasing number of illegal border crossers — despite the summertime extreme heat. Earlier this month, Yuma Station agents arrested 23 groups of illegal immigrants after they crossed the border from Mexico, Breitbart Texas reported. The 23 groups came to the U.S. from seven countries and included Family Unit Aliens (FMUA) and Unaccompanied Alien Children (UAC), according to Yuma Sector Border Patrol officials.
The largest cohort came to the U.S. from Guatemala (149). Officials said that 155 persons were in family units while 18 were unaccompanied minors.
"With the 128 percent increase in family unit apprehensions and 100 percent increase in unaccompanied alien children apprehensions in Yuma Sector, compared to the same time last year, we want to emphasize the extreme hazards that accompany crossing the border illegally during the summer months." Yuma Sector Chief Patrol Agent Anthony Porvaznik told Breitbart Texas in response to an email inquiry. "With peak days reaching close to 130 degrees, parents who are planning on crossing the border illegally need to seriously reconsider the possibly fatal dangers they will not only be subjecting themselves to, but their children as well."
Despite the dangerous conditions of attempting to enter the U.S. through the Arizona desert, the Yuma Sector reports a more than 100 percent increase in FMUA and UAC apprehensions. Family unit apprehensions jumped from 5,429 in FY2017 year-to-date numbers to 12,367 in FY2018 — an increase of 128 percent, according to the August Southwest Border Migration Report. Similarly, the apprehension of UACs jumped from 2,534 in FY2017 to 5,060 in FY2018 year-to-date numbers — an increase of 100 percent.
So far this year, at least 283 migrants died during their attempts to illegally enter the U.S., according to the Missing Migrant Project. At least 79 were in the Arizona desert.
Bob Price serves as associate editor and senior political news contributor for Breitbart Texas. He is a founding member of the Breitbart Texas team. Follow him on Twitter @BobPriceBBTX and Facebook.
http://feedproxy.google.com/~r/breitbart/~3/tNvma_0RRCE/