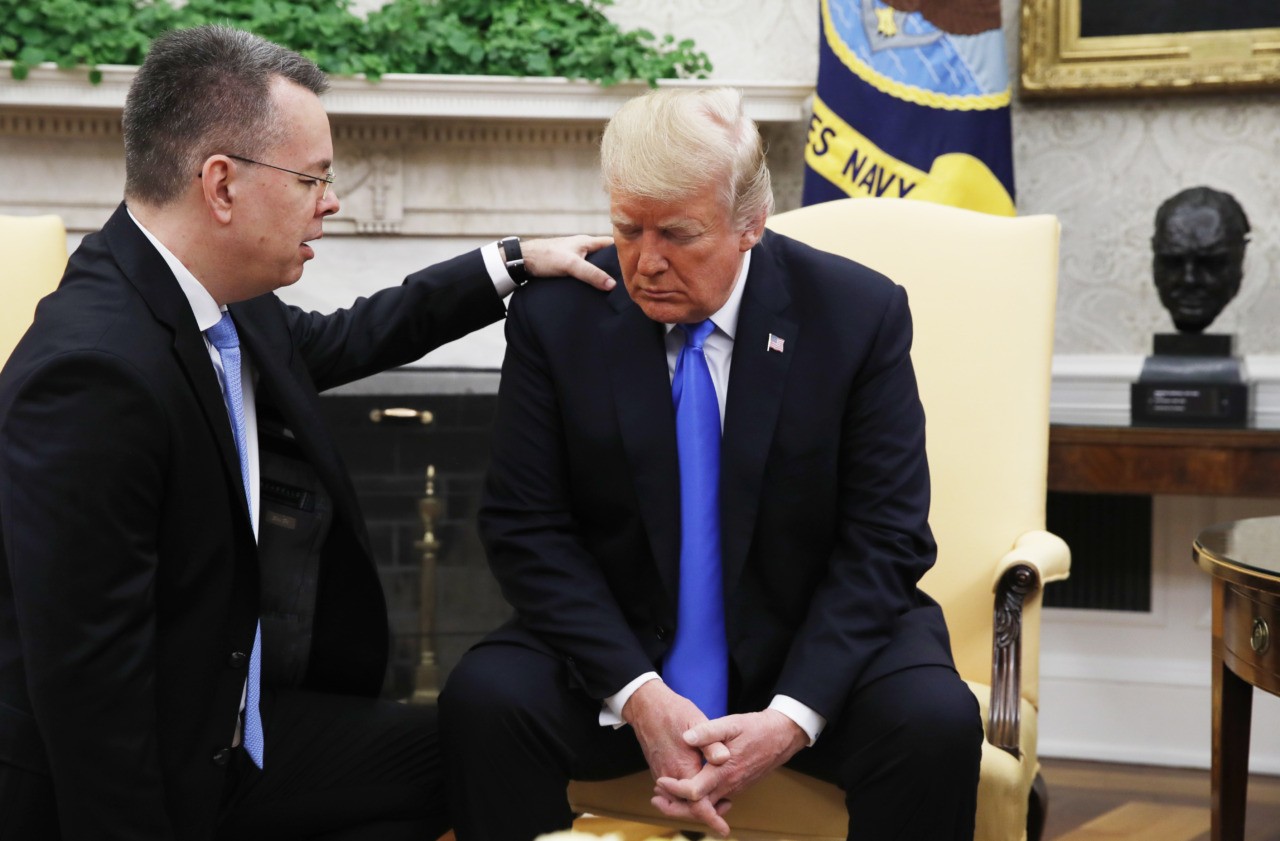 President Donald Trump sat next to newly released American Pastor Andrew Brunson in the Oval Office Saturday and said that under his administration "they're tending not to take" Americans, but he refrained from detailing why.
Breitbart News asked President Trump what he did differently from previous administrations to secure the release of 19 Americans including Pastor Brunson, given the U.S. did not make a deal.
"They're tending not to take them out of our administration and that's good," President Trump replied. "I like that and I think I can tell you why, but I won't, but they tend not to take them out of our administration and you know what, it's going to stay that way."
President Trump welcomed Pastor Brunson home to the United States Saturday before speaking to press in the Oval Office. Brunson had been held captive in Turkey for close to two years.
Trump told the press that the situation with Pastor Brunson began under a previous administration. "They were not going to work out anything," said Trump. "We took it over, we inherited it, and I think have at this moment gotten 19 different people out of various countries that were being held." He offered a few specific cases as examples.
The president acknowledged Brunson's faith and strength getting him through.
"The whole world is a fan of yours," Trump said of Pastor Brunson.
Brunson's wife and children were with him in the Oval Office. 
"I especially want to thank the administration, you really fought for us, unusually so from the time you took office I know you've been engaged," Brunson said to Trump, adding that Secretary of State Mike Pompeo, Vice President Mike Pence and so many others were involved as well.
President Trump remarked that he had talked with Pompeo once a day about Pastor Brunson's situation.
Pastor Brunson and his wife prayed for President Trump during the Oval Office meeting. He prayed that God give President Trump supernatural wisdom, perseverance, endurance to stand for truth, and protection against those who would undermine him.
Michelle Moons is a White House Correspondent for Breitbart News — follow on Twitter @MichelleDiana and Facebook
http://feedproxy.google.com/~r/breitbart/~3/SekXVuMIUM0/