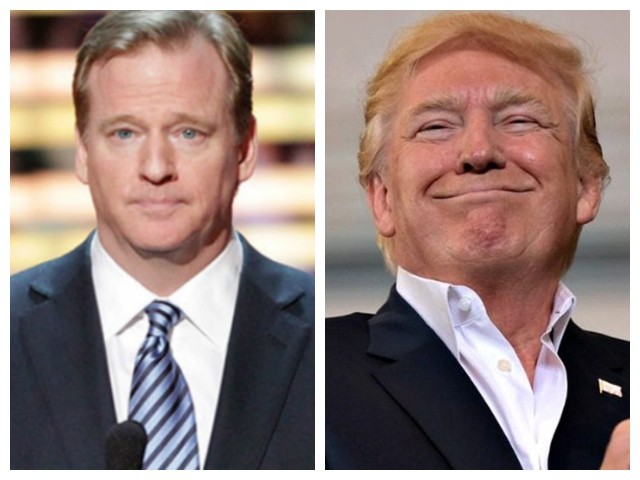 In a recent interview with the Associated Press, President Donald Trump said that he did the NFL "a big favor," but not with his attacks on the anthem protests.
The AP released its far-reaching interview with the president on Tuesday and in one segment, the wire service asked Trump about his criticism of the league. The AP noted that ratings for pro football are finally up a little and asked what the president thought of that ratings gain.
"Hey, look, I did the NFL a big favor. You know that, right?" Trump replied.
The AP assumed that he was talking about his opposition to the national anthem protests. But Trump did not want to talk about anthem protests. Instead, Trump insisted that his "big favor" was his effort to get Canadian TV to allow the NFL to sell advertisements during the Canadian broadcast of the Super Bowl.
"So the NFL was having a tremendous problem with Canada on the Super Bowl and advertising and all sorts of things — very complicated subject," Trump told the AP.
"I got that one fixed up for the NFL," Trump insisted.
"They're going to make a tremendous amount of additional money because of what I did for them. It was a favor for them, and it wasn't for NFL, it was that this is a great American company," Trump continued. "I was negotiating against Canada. And one of the things, I said 'I want the NFL fixed,' because it had to do with them keeping revenues from advertising and for not allowing the NFL to advertise in Canada."
Trump called the original situation very "unfair" but also said that Canada "plays a very tough game" on trade.
"So I said I want that fixed and nobody wrote a story about it because why would they ever write about it?" Trump added.
The problem was that Canadian TV would only allow the U.S. broadcast of the Super Bowl to be shown in Canada in toto, U.S. advertisements and all. Canadian TV was not allowed to sell local advertisements during the program meaning that the NFL could not make ad money from its Canadian broadcast of the big game.
But, during his recent trade deal, Trump scotched this practice and negotiated a deal with the Canadian government to allow both Canadian TV and the NFL to sell spots to Canadian companies. Trump's deal made the Super Bowl very lucrative for the NFL.
Trump added that NFL chief Roger Goodell was quite appreciative of the new deal.
"Commissioner Goodell called me last week and he, 'thank you very much.' But I settled that for the NFL. It took me literally about a minute because that's a small deal compared to the big deal. And Canada knew it was the right thing to do," Trump said. "So I helped a great American corporation. You have to understand, I like the NFL. I want the NFL to do well. I have many friends that are in the NFL, owners, and others. I want them to do very well."
Trump did say that he would rather see the league dump the anthem protests, but added, "I just helped the NFL settle a problem that they couldn't settle for 15 years or something. This has been going on, a vicious battle with Canada, for years. I settled it."
"And not one person has written about it," the president reiterated. "Why don't you call what you call Commissioner Goodell and ask him. Roger. He called me last week. I thought he was calling me about the flag to say 'ceasefire.' But he didn't. He called me just to thank me, and I said, 'That was very nice.' It was a very nice phone call. You should do something about it if you want."
In fact, Goodell didn't just call the president with a quiet thanks for the trade deal. The NFL Commissioner made a public statement of thanks for Trump's efforts.
"We greatly appreciate President Trump's leadership and determination in bringing about a resolution to our intellectual property issue in Canada," Goodell said in an October 2 statement.
Follow Warner Todd Huston on Twitter @warnerthuston.
http://feedproxy.google.com/~r/breitbart/~3/sUeF6snQ21c/