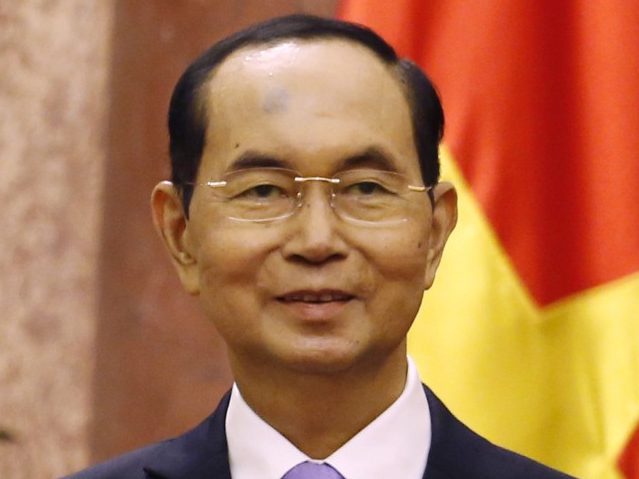 President Tran Dai Quang of Vietnam died at the age of 61 on Friday. According to a government spokesman, he was felled by an unspecified "rare and toxic virus" despite the efforts of doctors from both Vietnam and Japan.
As the Associated Press reported on Friday, the statement on Quang's death from Vietnamese government officials was vague on some major details:
Quang passed away despite "utmost efforts to treat him by Vietnamese and foreign professors and doctors and care by the party and state leaders," the statement said. It said Quang died at a military hospital in Hanoi but did not elaborate on his illness.

The state-run online newspaper VnExpress quoted a former health minister and the head of a national committee in charge of leaders' health, Nguyen Quoc Trieu, as saying that Quang had contracted a rare and toxic virus since July last year and had traveled to Japan six times for treatment. He did not specify the virus.

Trieu said the president lapsed into a deep coma hours after being admitted to the National Military Hospital 108 on Thursday afternoon.

"Japanese professors and doctors treated him and helped consolidate the president's health for about a year," Trieu said. "However, there are no medicines in the world that can cure the illness completely, instead it only could prevent and push it back for some time."
The AP described Quang as "frail" in his last public appearance on Wednesday at a reception for visitors from China and noted there was speculation about his health when he vanished from public view for a month last year.
The New York Times remembered Quang as a "former police general" and "hardliner" who will not be much missed by human rights advocates, having presided over a brutal crackdown on dissent.
Under Vietnam's system, the presidency is actually the least powerful of three executive positions, the other two being prime minister and general secretary of the Communist Party. Quang boosted his office into the number two spot with an anti-corruption crusade that was really a thinly-veiled political purge and security measures, including a sweeping cybersecurity law, that were abused to suppress dissent. His heavy-handed rule disappointed Vietnamese intellectuals who hoped his upbringing and education might make him a reformer.
Quang's career path to the top spot of party secretary was blocked when he went a little too far and became involved with the kidnapping of a Vietnamese oil executive from Berlin in broad daylight last year, dragging him back to Vietnam for a brisk trial and life in prison on corruption charges.
On the way from Germany to Vietnam, the executive fell down the stairs a couple of times and decided to make a televised confession upon arriving in Hanoi. The incident became a major international embarrassment for Vietnam because the operation involved some Eastern European abduction consultants with Cold War resumes. One of the perpetrators ended up in a German prison.  
The more upbeat obituaries for Quang portrayed him as a rival of the party secretary he had ambitions to replace, Nguyen Phu Trong, who walked an even harder Communist political line and was responsible for many of Vietnam's recent purges. For all his flaws, Quang might be seen as something of a moderating influence if he was a thorn in Trong's side. Quang's disappearances over the past year prompted speculation he had been removed from his office, imprisoned, or killed, and some observers thought he was unlikely to continue as president beyond the next big Communist Party meeting.
U.S. Ambassador Daniel Kritenbrink chose to accentuate the positive and salute Quang for helping improve relations between America and Vietnam:
On behalf of the U.S. Mission in Vietnam, I would like to express our sincere condolences on the passing of President Tran Dai Quang.  Our sympathies go out to his family and the people of Vietnam at this sad time.

President Tran Dai Quang was a friend of the U.S.-Vietnam relationship.  His hosting of President Donald J. Trump's historic state visit to Hanoi in November 2017 helped advance the U.S.-Vietnam Comprehensive Partnership to new heights on the basis of mutual understanding, shared interests, and a common desire to promote peace, cooperation, prosperity, and security in the Indo-Pacific region.

We honor his legacy and mourn his loss alongside his family and our friends, the people of Vietnam.
Upon his death, Quang's office was assumed by Vice President Dang Thi Ngoc Thinh, who became the first female president of Vietnam. Most observers expect Thinh's tenure to last only until the Party can meet and choose a permanent president.
http://feedproxy.google.com/~r/breitbart/~3/CW6fiCE0-P4/