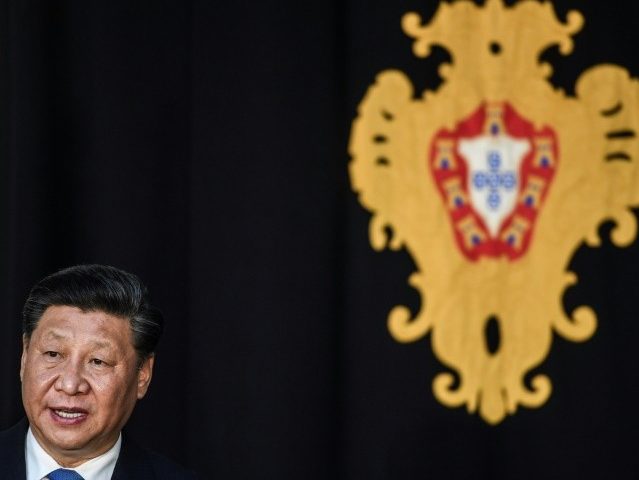 Chinese Communist Party leader Xi Jinping arrived in Portugal on Wednesday for the final stop in his European and Latin America tour this month, anchored by the G-20 summit in Buenos Aires, Argentina.
Portugal, one of Europe's weakest economies, appears eager to attract Chinese investment. In exchange for funding, Lisbon offers China access to the tail end of the route mapped out in Xi's Belt and Road Initiative (BRI), a plan to guarantee Chinese control of every major transportation hub in the world. China has succeeded in amassing control of ports throughout Africa and Southeast Asia, and has begun working on selling infrastructure projects to Latin America, but has yet to secure control of any part of the eastern Atlantic Ocean.
In an interview published by state-run outlet China Daily on Wednesday, Portuguese Ambassador to China Jose Augusto Duarte said his government was open to expanding China's role in its economy and expected that its access to the ocean would make it an attractive trading partner.
"Portugal enjoys a strategic geographic position and excellent relations with Europe, Africa and Latin America," the newspaper quotes Duarte as saying. "It would be positive if China could take advantage of these conditions and further invest in Portugal in the industrial sector-investing in a country that can provide high-quality agriculture and industrial products."
China Daily noted that China is Portugal's largest trading partner in Asia and, as of last year, China is investing over $10 billion in the Portuguese economy. That could increase significantly if Xi and Portuguese President Marcelo Rebelo de Sousa sign large financial deals during the current visit.
In his interview with Chinese media, Ambassador Duarte named the BRI specifically as a program that Portugal was interested in investing in.
"China's plans for wider rail and maritime connections linking the extremes of the Eurasian land mass require Portugal to play a unique role," he said, suggesting that Portugal's Port of Sines could offer China key real estate for its initiative.
Xi's attitude towards Portugal, as evidenced in remarks made in print and upon his arrival, also appears to be one of hope that China could more deeply entrench itself in Europe through Portuguese ports. Prior to landing in Lisbon, Xi published a Portuguese-language column in a national newspaper there, similar to the articles published in Spain, Argentina, and Panama before his arrival.
"We need to jointly take forward the Belt and Road Initiative (BRI) and build a partnership of common development," Xi wrote. "As Portugal lies at an important intersection of the land and maritime silk roads, our two countries are naturally positioned to cooperate under the BRI."
"We should seize the opportunities provided by the BRI to expand and strengthen cooperation on existing projects, make good use of the China International Import Expo and other platforms to increase two-way trade, explore more cooperation opportunities in port development, automobiles, new energy, finance and other fields, and step up third-party cooperation to seek mutual benefit in a wider scope," the Chinese leader insisted.
"Maritime cooperation" also takes up a significant portion of the article. "Portugal, known for its tradition of maritime expedition, has a time-honored maritime culture and rich experience in the exploitation of marine resources," Xi notes. "We need to strengthen our Blue Partnership, facilitate cooperation in marine research, ocean development and protection, port logistics and other areas, and grow blue economy together to better harness the vast ocean to the benefit of our future generations."
Xi's visit is the first for a Chinese head of state in Portugal in eight years. He is expected to sign at least one memorandum of understanding (MOU) committing Portugal to contribute to the BRI project.
"The possible signing of an MOU with Portugal would have significant meaning for the promotion of the BRI in South Europe, which would be an example for more European countries to join BRI," the Chinese state-run Global Times quotes Chinese researcher Zhang Bei as stating. Zhang predicts that Portugal will endure pressure from other Western nations not to participate in the BRI.
The West, and the United States government in particular, has taken to warning developing countries and those with weaker economies away from the BRI because of the presumably high-interest rates on the loans necessary to join the project. China has meticulously kept the terms of BRI debts a secret, but they have already resulted in nation's yielding sovereignty over their territory when they cannot make payments, most notably in Sri Lanka. The Maldives, another Southeast Asian nation, is also on the brink of bankruptcy because of Belt and Road loans, while African countries like Kenya and Angola struggle to keep afloat amid an invasion of Chinese workers for road and rail projects.
Follow Frances Martel on Facebook and Twitter.
http://feedproxy.google.com/~r/breitbart/~3/WRDVYGeG8aU/