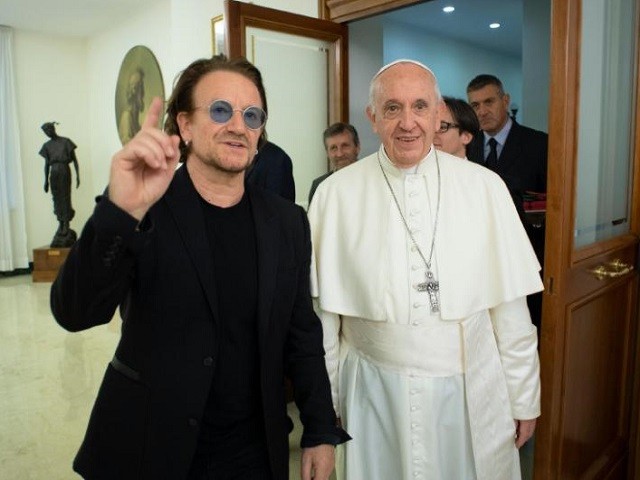 Pope Francis granted pop singer Bono a private audience in the Vatican Wednesday, just months after the U2 singer publicly campaigned to legalize abortion in his native Ireland.
After their half-hour meeting, Bono said that Francis had been "incredibly gracious with his time, his concentration."
They just "let the conversation go where it wanted to go," Bono said, conversing on "big themes," such as the future of commerce and how it might serve sustainable development goals.
Among the various points reportedly discussed by the two men, abortion was not among them.
Last May, the Irish rock band U2 tweeted their support for legalizing abortion in Ireland, which band members later justified as being the "smart thing to do" for Ireland.
After tweeting a photo endorsing the "Repeal the 8th" campaign for Ireland's abortion referendum, U2 received a barrage of overwhelmingly negative replies, with many voicing their decision to stop supporting the band or attending its concerts.
After his papal audience Wednesday, Bono told reporters he had explained to Francis that to some observers it looks like "the abusers are being more protected than the victims," in reference to the recent scandals dealing with clerical sex abuse.
Bono reported that he could "see the pain" in the pope's face. "I felt he was sincere, and I think he's an extraordinary man for extraordinary times," Bono said.
On Tuesday morning, Pope Francis compared bishops who are accused with malfeasance to Jesus before his executioners and recommended they keep silent as Jesus did.
When people insulted Jesus on Good Friday and shouted, "Crucify him," the pope said in his morning homily, "he remained silent because he had compassion for those people deceived by the powerful."
"He was silent. He prayed," Francis said.
"In the same way, the pastor, in difficult times, in times when the devil is unleashed, where the pastor is accused—accused by the Great Accuser through so many people, so many powerful ones—suffers, offers his life and prays," the pope said.
Pope Francis himself was recently accused by a high-ranking Vatican official of having gravely mishandled the case of serial homosexual abuser Cardinal Theodore McCarrick.
On August 25, the Vatican's former ambassador to the United States released an 11-page report accusing the pope of reinstating Cardinal McCarrick to a position of prominence despite knowing of McCarrick's sexual abuse of priests, seminarians, and laypeople.
In his report, Archbishop Carlo Maria Viganò claimed that Pope Benedict had imposed sanctions on McCarrick, forbidding him from traveling, celebrating Mass in public, or participating in public meetings, but that Pope Francis later lifted these sanctions and made McCarrick a close personal advisor, consulting him in the naming of American bishops.
Cardinal McCarrick enjoyed a "long friendship with Cardinal Bergoglio" — the future Pope Francis — and played an "important part" in his election, the archbishop claimed, which led the pope to continue using McCarrick as a trusted aide in the appointment of bishops even after learning of his misdeeds.
Viganò stated that he personally informed the pope of McCarrick's abuse on June 23, 2013 and yet Francis "continued to cover for him."
When reporters later asked Francis when he had learned of McCarrick's abuse, the pope refused to answer the question.
Pope Francis has made his opposition to abortion clear, but has also said that it is just one of many moral issues and does not deserve exclusive attention.
Last April, the pontiff reiterated the church's defense of unborn children, whose lives are sacred.
"Equally sacred, however, are the lives of the poor, those already born, the destitute, the abandoned and the underprivileged, the vulnerable infirm and elderly exposed to covert euthanasia, the victims of human trafficking, new forms of slavery, and every form of rejection," he added.
Bono told reporters Wednesday that he and the pope see eye to eye on many things and appreciate each other.
"We haven't figured out what we are going to do together," Bono said, "but we sort of have a crush on each other."
Follow Thomas D. Williams on Twitter Follow @tdwilliamsrome
http://feedproxy.google.com/~r/breitbart/~3/3uadhHxpp9c/