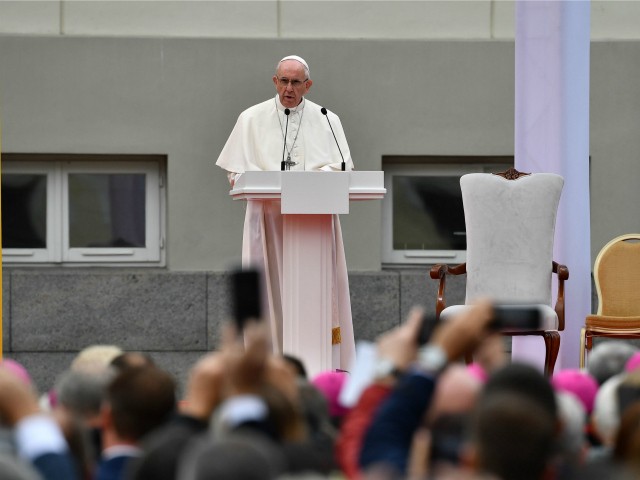 Pope Francis reiterated his anti-populist message in an address to Lithuanian authorities Saturday, suggesting that Lithuania's greatness comes from its ability to accept and integrate immigrants.
Throughout its history, "Lithuania was able to shelter, receive and accept peoples of various ethnic groups and religions," Francis said in his address. "All found a place to live in this land – Lithuanians, Tartars, Poles, Russians, Belarusians, Ukrainians, Armenians, Germans."
"Catholics, Orthodox, Protestants, Old Catholics, Muslims, Jews – lived together in peace until the arrival of totalitarian ideologies that, by sowing violence and lack of trust, undermined its ability to accept and harmonize differences," he said.
Lithuania's welcoming spirit must spread to the rest of Europe, the pope proposed, which is threatened by a populist spirit that places a premium on national security.
Francis said:
If we look at the world scene in our time, more and more voices are sowing division and confrontation – often by exploiting insecurity or situations of conflict – and proclaiming that the only way possible to guarantee security and the continued existence of a culture is to try to eliminate, cancel or expel others.
Lithuania's history of welcoming others makes it especially suited to teach others and become "a bridge between Eastern and Western Europe," he said. "This is the fruit of a mature history, which you as a people can offer to the international community and to the European Community in particular."
The pope also suggested that efforts to reassert national sovereignty—which can be seen in countries like Poland, Hungary, and Italy—are reminiscent of the totalitarianism of the past century.
"You have suffered 'in the flesh' those efforts to impose a single model that would annul differences under the pretence of believing that the privileges of a few are more important than the dignity of others or the common good," he said.
On Thursday, Pope Francis addressed a Vatican conference that sought to tie "populist nationalism" to racism and xenophobia as part of an ongoing campaign to encourage immigration.
Some politicians "yield to the temptation to exploit the fears or the objective difficulties of some groups," Francis said in his prepared closing address at the "World Conference on Xenophobia, Racism and Populist Nationalism in the Context of World Migration," adding that these politicians "make illusory promises for short-sighted electoral interests."
In his address, Francis said that dangerous fears of outsiders are being stoked by unscrupulous political and economic players.
These players sow "feelings of suspicion, fear, contempt and even hatred towards individuals or groups judged different by reason of their ethnic, national or religious affiliation," the pope said.
In his words, the pontiff seemed to suggest that the only reason citizens and political leaders would oppose mass migration is out of an irrational hatred of foreigners.
Last September, the pope kicked off a two-year Vatican campaign with the stated goal of provoking a "shift in thinking" on immigration, allaying fears, and encouraging an openness to migrants. According to the pope, populism is "not the answer" to Europe's migrant crisis because it favors national security and an end to illegal immigration.
A rejection of mass migration, on the other hand, is fueled by selfishness and "populist rhetoric," Francis has said.
A true change of heart is needed because the rejection of migrants is "rooted ultimately in self-centeredness and amplified by populist rhetoric," he told visitors to the Vatican in 2017.
To combat this trend, we must "overcome indifference" and "counter fears with a generous approach of welcoming those who knock at our doors," he said.
Follow Thomas D. Williams on Twitter Follow @tdwilliamsrome
http://feedproxy.google.com/~r/breitbart/~3/DiJXQMB8WSQ/