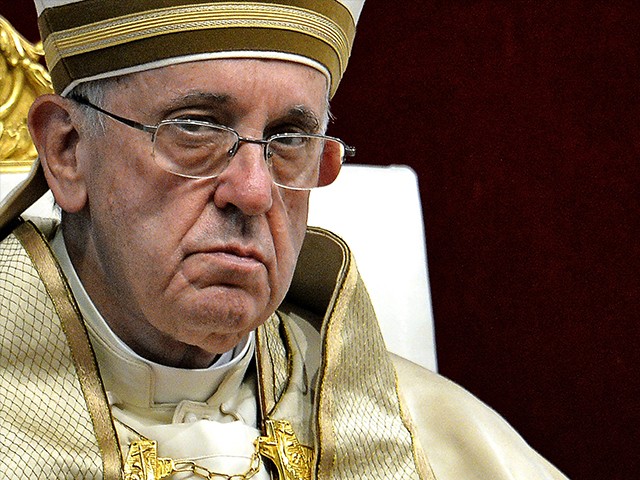 Bishops who are accused should remain silent like Jesus on Good Friday when the crowds called out for his crucifixion, Pope Francis said Tuesday.
When people insulted Jesus on Good Friday and shouted, "Crucify him," the pope said in his morning homily at the chapel of the Santa Marta residence, "he remained silent because he had compassion for those people deceived by the powerful."
"He was silent. He prayed," Francis said.
"In the same way, the pastor, in difficult times, in times when the devil is unleashed, where the pastor is accused—accused by the Great Accuser through so many people, so many powerful ones—suffers, offers his life and prays," the pope said.
At the conclusion of the homily, Francis invited the congregation to pray for the bishops. "Take up the Gospel and read, and see Jesus, and where his authority lies. And ask the grace that all pastors may have this authority: an authority that is a grace of the Holy Spirit," he said.
Tuesday's homily marked the fourth occasion in two weeks where the pope decried the action of those who accuse bishops, comparing them to the devil, the "Great Accuser."
Last week, Francis compared Vatican whistleblower Archbishop Carlo Maria Viganò to Satan, the "Great Accuser," after Viganò released an 11-page document filled with allegations of the mishandling of serial homosexual abuser Cardinal Theodore McCarrick by high-ranking prelates, including the pope himself.
In these times "it seems that the Great Accuser has been unleashed and has it in for the bishops," the pope said.
"It is true, we are all sinners, we bishops," he said, but the Great Accuser "seeks to unveil sins so that they may be seen, to scandalize the people."
The pope's reference to the silence of Jesus before his accusers Tuesday reflects his own option to deny comments to reporters seeking to know whether any of the allegations are true.
When asked directly about the accusation just after their publication, Francis dodged questions from reporters, including when he had learned about McCarrick's abuse, telling them to read the report and make their own assessment of its credibility.
Since that time, a number of bishops have criticized the pope's "no comment" media strategy, insisting the allegations are very serious and that Francis has the duty to clarify the facts to provide the "accountability" for which he himself has called.
Follow Thomas D. Williams on Twitter Follow @tdwilliamsrome.
http://feedproxy.google.com/~r/breitbart/~3/hLZqlrgQQLQ/