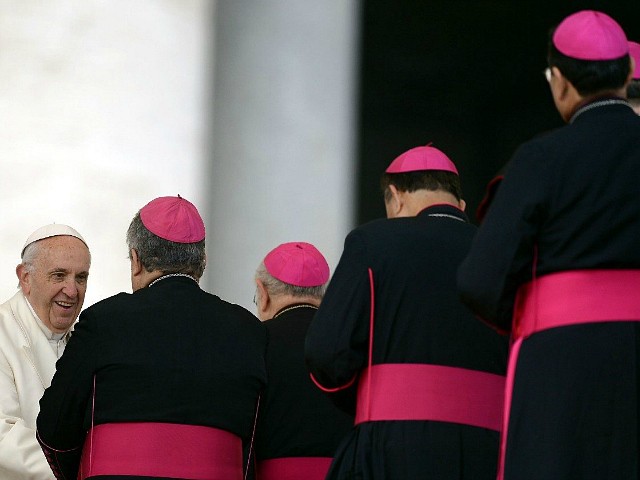 Pope Francis invited several bishops accused of covering up clerical sex abuse to the Synod on Youth this October.
Most bishops who attend the Synod — a religious meeting bringing bishops from around the world to meet with the pope — are selected by their national bishop's conference to represent a given region, but several bishops were invited to the gathering at Pope Francis's request.
The pope invited Cardinal Joseph Tobin of Newark, New Jersey, and Cardinal Blase Cupich of Chicago, Illinois, both church leaders mentioned in Vatican whistleblower Archbishop Carlo Maria Viganò's 11-page testimony accusing church leaders — including the pope — of covering up instances of sexual abuse by the clergy.
Even though the pope has gone to great lengths to protect bishops accused of covering up sexual abuse by clergy, he has attacked those who have accused the bishops of wrongdoing, likening them to Satan, "the Great Accuser."
Viganò, who served as the former Vatican ambassador to the U.S., wrote that Cardinals Theodore McCarrick, Donald Wuerl, and Oscar Rodriguez Maradiaga recommended that Pope Francis promote the two bishops.
McCarrick resigned from the College of Cardinals after several "credible and substantiated" allegations of sexual abuse spanning several decades were made public in June.
Wuerl was exposed in the Pennsylvania attorney general's report of covering up clergy sexual abuse while he was bishop of Pittsburgh. Last week, he announced his intention to discuss his resignation as archbishop of Washington, DC, at his upcoming meeting with Pope Francis, who has yet to accept the mandatory resignation Wuerl submitted to him when he turned 75, in accordance with canon law.
Maradiaga, a Honduran cardinal who has been considered a "vice pope" because of his position of influence in the Vatican, was accused of mishandling a scandal involving homosexual priests at a seminary in Honduras.
Following Viganò's testimony on the cover-up within the church, several Catholic leaders had called for the Synod on Young People to be canceled because the bishops would be seen as having "no credibility" on the matter.
"I have written the Holy Father and called on him to cancel the upcoming synod on young people. Right now, the bishops would have absolutely no credibility in addressing this topic," Philadelphia Archbishop Charles Chaput told attendees of a conference at St. Charles Borromeo Seminary in August.
Despite the protest from some Catholic leaders, the Youth Synod is scheduled to go on as planned in Vatican City between October 3 and 26.
http://feedproxy.google.com/~r/breitbart/~3/mHhlQUjdRDk/