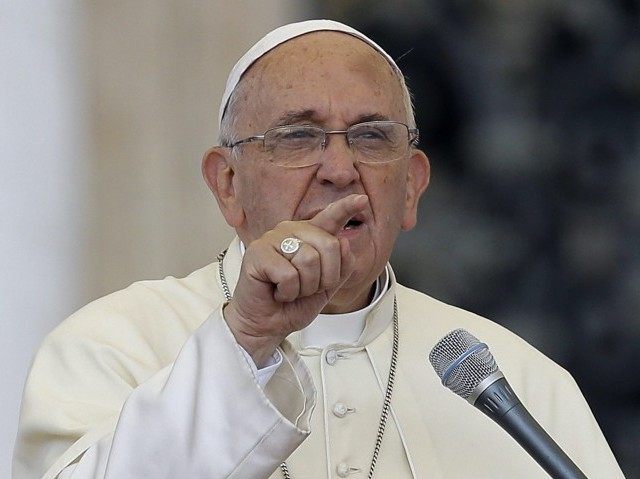 Pope Francis threw his weight behind a Vatican conference seeking to connect populism with xenophobia and racism Thursday as part of an ongoing pro-immigration campaign.
Some politicians "yield to the temptation to exploit the fears or the objective difficulties of some groups," Francis said in his closing address at the World Conference on Xenophobia, Racism and Populist Nationalism in the Context of World Migration, adding that these politicians "make illusory promises for short-sighted electoral interests."
The Catholic establishment in Italy has been a vocal opponent of interior minister Matteo Salvini, who has been keeping his campaign promises of reining in illegal immigration and reasserting Italian sovereignty before the European Union.
Salvini, who is currently the most trusted politician in Italy, has been excoriated by the Catholic establishment, which has compared him both to Satan and the antichrist because of his immigration policies.
For some prelates, the immigration question is so important that they would be willing to sell the faith for it. One Italian bishop said that he would be willing to see an end to Christianity and the dominion of Islam if it meant saving migrants' lives.
"Morally and as a man of faith I would be willing to turn all churches into mosques if it were useful to the cause and if it helped to save the lives of poor and unhappy men and women, because Christ did not come to earth to build churches but to help men regardless of race, religion, or nationality," said the former bishop of Caserta, Raffaele Nogaro, this past summer.
In his address Thursday, Francis said that dangerous fears of outsiders are being whipped up by unscrupulous political and economic players.
These players sow "feelings of suspicion, fear, contempt and even hatred towards individuals or groups judged different by reason of their ethnic, national or religious affiliation," the pope said.
"These feelings, too, often inspire real acts of intolerance, discrimination or exclusion, which seriously damage the dignity of the people involved and their fundamental rights, including the right to life and to physical and moral integrity," he said.
In his words, the pontiff seemed to suggest that the only reason citizens and political leaders would oppose mass migration is out of irrational hatred of foreigners rather than a real concern for the common good of the nation.
"The severity of these phenomena cannot leave us indifferent," Francis said, and we all are called "to cultivate and promote respect for the intrinsic dignity of every human person" in the face of xenophobia and racism.
"Faced with the spread of new forms of xenophobia and racism, the leaders of all religions also have an important mission: to spread among their faithful the ethical principles and values inscribed by God in the human heart, known as the natural moral law," the pope said.
The pope's words Thursday formed part of an ongoing Vatican campaign to change people's views on immigration throughout the world.
A year ago this month, the pope kicked off a two-year campaign with the stated goal of provoking a "shift in thinking" on immigration, allaying fears, and encouraging an openness to migrants.
The pro-immigration campaign has been spearheaded by the global Catholic charities network Caritas Internationalis.
Our world "faces not a migration crisis, but a crisis of global solidarity," Caritas says on its website. "Be part of a worldwide campaign to reach out to migrants, change perceptions, open hearts and minds, and strengthen the bonds that unite us all."
The project intends to shed light on both the challenges and effects of migration at every stage of the journey in order to provoke a "shift in thinking" on the issue.
Part of this shift in thinking involves dispelling common "myths about migration," Caritas states, which include the idea that there are more migrants than ever before, that migrants live off welfare benefits and steal jobs from citizens, that closing borders will stem migrant flows, and that "people from poor countries migrate to rich ones."
In point of fact, however, recent studies suggest that mass migration, especially if sustained over several years, has a significant impact on employment, crime rates, and national security.
In its immigration crusade, Caritas partnered with the ecumenical ACT Alliance of over 140 members, the U.N.'s Food and Agriculture Organization (FAO), the International Organization for Migration (IOM), the U.N.'s refugee organization (UNCHR) and its World Food Program, along with numerous other religious and civil society organizations.
Follow Thomas D. Williams on Twitter Follow @tdwilliamsrome.
http://feedproxy.google.com/~r/breitbart/~3/LY50nKACCt8/