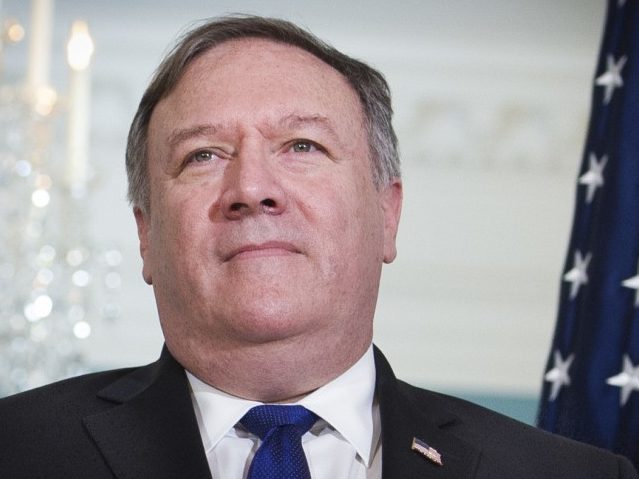 Chinese State Television confirmed on Wednesday that U.S. Secretary of State Mike Pompeo will visit China next week, as the escalating trade dispute between Beijing and Washington reportedly spills into the military domain.
During a press briefing on Tuesday, Heather Nauert, a spokeswoman for the U.S. Department of State, announced that Pompeo will travel to Beijing on Monday where he "will meet with his Chinese counterparts to discuss bilateral, regional, and global issues."
"The trip is, as far as I understand, to have conversations about North Korea and other issues of bilateral concern," she added.
On Wednesday, Reuters learned that Chinese State Television had confirmed Pompeo's trip, citing a Chinese Foreign Ministry spokeswoman.
Echoing the State Department, Reuters noted, "The two governments will exchange views over their bilateral relationship and international and domestic issues concerning by both sides, it reported, without giving details."
The announcement of Pompeo's trip to Beijing came as the Agence France-Presse (AFP) agency reported that the ongoing trade dispute between the U.S. and China has triggered military tensions between the two nations.
AFP noted on Wednesday:
The bitter trade dispute between China and the US is increasingly spilling into the military domain, with a risky incident in the South China Sea highlighting the dangers of souring relations.

In what the US Navy has called an "unsafe and unprofessional" encounter, a Chinese warship sailed within just 45 yards (41 meters) of a US destroyer Sunday as it passed by Chinese-claimed features in the South China Sea, forcing the American vessel to take evasive action.

The close call capped days of tit-for-tat military moves that came as President Donald Trump ramped up his trade war with China.
Asked whether the ongoing trade spat has impacted the diplomatic relationship between China and the United States, Nauert told reporters on Tuesday:
Who knows? I think in any relationship you have your high points, you have your medium points and in some cases your countries you have – with some countries you have your low points, and I'm not going to characterize our relationship with China in any one of those three ways. But relationships can ebb and flow over time, so we have certainly a lot to talk about with the government of China and look forward to the trip.
On Monday, a day after Beijing canceled his trip to China, U.S. Secretary of Defense Jim Mattis acknowledged "tension points" between the Beijing and Washington.
However, Mattis told reporters that he did not expect the strained U.S.-China relations to get worse.
Pompeo will travel to various Asian nations from October 6th to the 8th, including North Korea, Japan, and South Korea.
http://feedproxy.google.com/~r/breitbart/~3/WMA1wnbhDiQ/