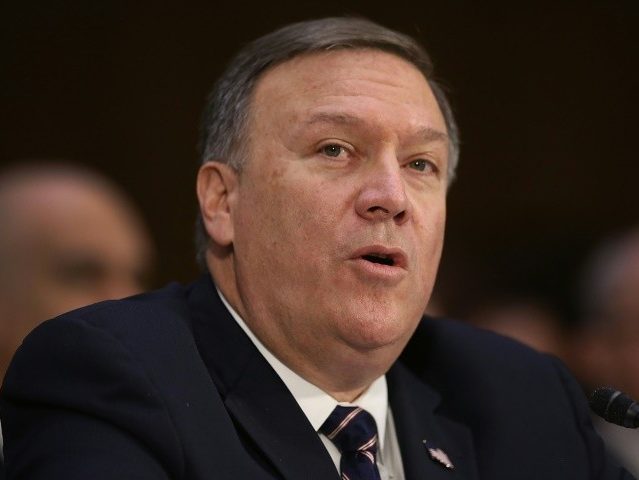 Secretary of State Mike Pompeo met with Turkish President Recep Tayyip Erdogan and Foreign Minister Mevlut Cavusoglu in Ankara on Wednesday to discuss the disappearance of Jamal Khashoggi at the Saudi consulate in Istanbul.
On his way to Turkey from Saudi Arabia, Pompeo told reporters he emphasized the importance of a "complete investigation" into the Khashoggi case to the Saudis, and he would do so with the Turks as well. He said the Saudis were prepared to move "quickly."
"They made a commitment, too, to hold anyone connected to any wrongdoing that may be found accountable for that, whether they are a senior officer or official. They promised accountability for each of those persons whom they determine as a result of their investigation deserves accountability," Pompeo said after meeting with Saudi officials. He indicated that even members of the royal family would be held accountable if necessary.
Pompeo declined to say whether he believed the ghastly reports allegedly emanating from Turkish officials more or less than the statements from Saudi Arabia. Instead, he urged all observers to wait until a thorough investigation has been concluded.
Upon arriving in Ankara, Pompeo met with Foreign Minister Cavusoglu and discussed the recent release of American pastor Andrew Brunson and "other issues of bilateral importance," as well as the Khashoggi case. Pompeo offered American assistance to Turkey in the investigation.
Cavusoglu called his meeting with Pompeo "beneficial and fruitful," but divulged no details about the discussion.
Pompeo said President Erdogan "made clear that the Saudis had cooperated with the investigation that the Turks are engaged in and they are going to share information."
The Secretary of State refused to comment when asked if he has heard the much-rumored audiotapes that purportedly captured Khashoggi's torture and murder. The State Department later made clear that Pompeo "had not heard any such audio."
As of Wednesday afternoon, it appears no one except anonymous Turkish officials leaking to Turkish newspapers has heard the audio, and not even those sources claim to have heard it personally. The New York Times touched on this point in its coverage of Pompeo's trip to Ankara:
A senior Turkish official confirmed to The New York Times that details of the recordings published in a pro-government newspaper were correct, but The Times has not heard the recordings. The Turkish media are largely state-controlled, and the government has used a stream of leaks about Mr. Khashoggi to apply pressure on the Saudis.

In Washington, President Trump said of the recorded evidence, "We have asked for it if it exists." In brief remarks to reporters at the White House, he said, "We don't know if it exists yet," but added that it "probably does."
The Times said Pompeo rejected suggestions he has given the Saudis too much benefit of the doubt in the Khashoggi affair. He argued that allowing a little time for a thorough investigation of such an explosive case is reasonable:
After meeting with Mr. Erdogan and other Turkish officials, Mr. Pompeo said repeatedly that the Trump administration was withholding judgment until seeing the results of the Turkish and Saudi investigations. He rejected a suggestion that he was giving the Saudis the benefit of the doubt, adding, "It's reasonable to give them a handful of days to get it right."

He also sought to tamp down expectations that the United States might punish Saudi Arabia, a longtime ally.

"I do think it's important that everyone keep in their mind that we have lots of important relations, financial relationships between U.S. and Saudi companies, government relationships, things that we work on all across the world," he told reporters on his plane after leaving Ankara. "We just need to make sure that we are mindful of that as we approach decisions that the United States government will take when we learn all of the facts."
The delicate status of relations between the United States and Turkey is worth keeping in mind as well. The Trump administration hammered Turkey with surprisingly effective economic sanctions to secure the release of Pastor Brunson. Relations between Washington and Ankara were just entering a healing cycle when the Khashoggi story blew up into a major international incident. The timing was exceptionally bad for the Trump administration's diplomacy with Turkey as well as its relations with Saudi Arabia.
Pompeo said during his visit to Ankara that sanctions against Turkey might be lifted now that Brunson is free.
"We'll have a decision on that shortly but some of the sanctions that were put in place were directly connected to Pastor Brunson and there's a logic to now removing those as well," he said.
Cavusoglu was about as gracious as he could be under the circumstances, denouncing the American sanctions as "nonsense" but welcoming their possible demise because "as long as there are sanctions, relations can go nowhere."
Relations might also go nowhere if Turkey, Saudi Arabia, and the United States become embroiled in a fierce political battle over a mysterious disappearance or horrifying murder.
http://feedproxy.google.com/~r/breitbart/~3/8dretmMwP_4/