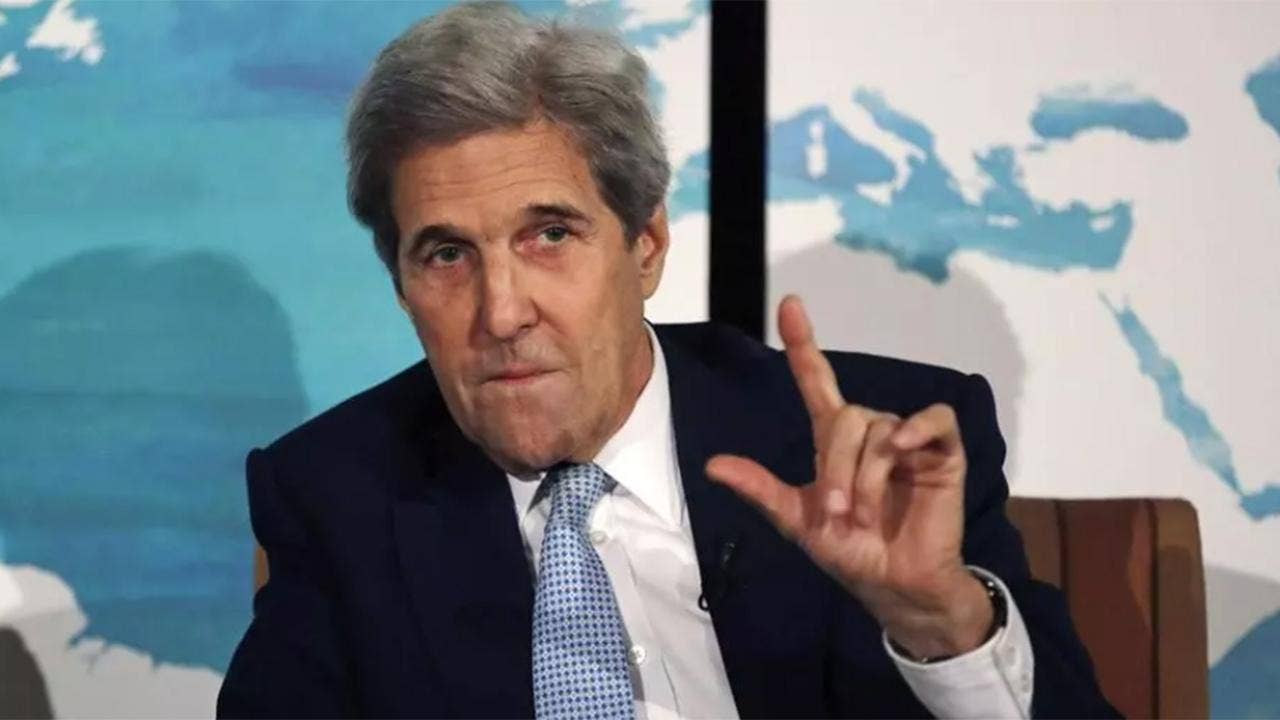 Secretary of State Mike Pompeo blasted predecessor John Kerry on Friday for "actively undermining" the U.S. by holding meetings with Iranian officials — although he stopped short of endorsing President Trump's view that the meetings were illegal.
"You can't find precedent for this in U.S. history, and Secretary Kerry ought not to engage in that kind of behavior," Pompeo said in a press conference at the State Department. "It's inconsistent with what foreign policy of the United States is as directed by this president, and it is beyond inappropriate for him to be engaged."
Reports of Kerry's meetings with Iranian Foreign Minister Javad Zarif first emerged in May, sparking significant criticism — including from Trump. The Boston Globe, which first reported on Kerry's talks, described them as an "aggressive yet stealthy" effort to keep the U.S. part of the 2015 Iran nuclear deal, which Kerry helped negotiate. 
Trump would nonetheless pull the U.S. from the deal and reimposed sanctions on Iran last month. The U.S. is expected to reimpose sanctions on the Islamic regime's oil exports in November.
But it appears that comments Kerry has made while promoting his new memoir, "Every Day is Extra," have sparked the ire of the administration.
JOHN KERRY SLAMMED FOR 'SHAMEFUL' SHADOW DIPLOMACY AFTER ADMITTING TO MEETINGS WITH IRAN 

During an appearance on Hugh Hewitt's radio show on Wednesday, Kerry acknowledged meeting with Iranian Foreign Minister Javad Zarif "three or four times" since leaving office, admitting to discussing the scrapped nuclear deal and other issues.
"What I have done is tried to elicit from him what Iran might be willing to do in order to change the dynamic in the Middle East for the better," Kerry said.
Later Wednesday, during an appearance on Fox News' "The Daily Briefing with Dana Perino," Kerry did not deny the suggestion he's telling the Iranians to wait out Trump until there is a Democratic president again.
"I think everybody in the world is talking about waiting out President Trump," said Kerry, who ran unsuccessfully for president in 2004 and who has not ruled out a 2020 bid. The remarks sparked a fierce response from Trump, who send out a searing tweet on Thursday.
"John Kerry had illegal meetings with the very hostile Iranian Regime, which can only serve to undercut our great work to the detriment of the American people. He told them to wait out the Trump Administration! Was he registered under the Foreign Agents Registration Act? BAD!" he tweeted.
Kerry responded by making a reference to the guilty plea from former Trump campaign chairman Paul Manafort, and by plugging his book.
"Mr. President, you should be more worried about Paul Manafort meeting with Robert Mueller than me meeting with Iran's FM. But if you want to learn something about the nuclear agreement that made the world safer, buy my new book, Every Day Is Extra," he tweeted.
But Pompeo joined in with Trump's criticisms on Friday, telling reporters that Kerry's behavior was "unseemly and unprecedented."
"This is a former secretary of state engaged with the largest state sponsor of terror," he said. However, on whether the meetings were illegal, he said he would leave "legal determinations to others."
"Actively undermining U.S. policy as a former secretary of state is literally unheard of," he said.
Pompeo also criticized Obama-era Energy Secretary Ernest Moniz and ex-Iran deal negotiator Wendy Sherman for joining Kerry at a meeting with Zarif and other Iranian officials earlier this year at a security conference in Munich.
"I wasn't in the meeting, but I am reasonably confident that he was not there in support of U.S. policy with respect to the Islamic Republic of Iran," Pompeo said. Sherman said later Friday that she wasn't with Kerry and Moniz when she met Zarif.
In response, a spokesman for Kerry said that "no secrets were kept from this administration."
"Secretary Kerry stays in touch with his former counterparts around the world just like every previous secretary of state, and in a long phone conversation with Secretary Pompeo earlier this year he went into great detail about what he had learned about the Iranian's view," spokesman Matt Summers said.
Kerry, Summers said, was only advocating for what was "wholly consistent with U.S. policy at the time."
"There's nothing unusual, let alone unseemly or inappropriate, about former diplomats meeting with foreign counterparts. Secretary Kissinger has done it for decades with Russia and China. What is unseemly and unprecedented is for the podium of the State Department to be hijacked for political theatrics," he said.
Fox News' Rich Edson, Alex Pappas and The Associated Press contributed to this report.
http://feeds.foxnews.com/~r/foxnews/politics/~3/xZf8cEeIExM/pompeo-slams-kerry-for-actively-undermining-us-with-iran-shadow-diplomacy.html