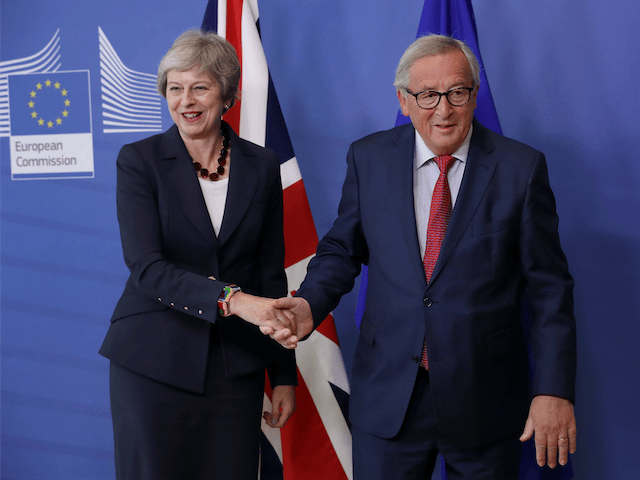 Two recent polls show the Conservative Party behind Labour as the prime minister says that she will return to Brussels to press ahead with her soft Brexit plan.
The Opinium Research poll, conducted November 14th, put the Tories at 36 per cent, three points behind Labour at 39 per cent.
In another poll by ComRes, the Conservatives are again at 36 per cent, four points behind Labour which is at 40 per cent, according to data collected between the 14th and 15th of November.
Prime Minister Theresa May continued her media blitz to sell her Brexit agreement — widely unpopular due to the Irish backstop locking the UK into EU customs rules — telling Sky News's Sophie Ridge on Sunday that she has no intention of either backing down or renegotiating with Brussels.
Theresa May told @RidgeOnSunday that a change of leader would only mean "Brexit gets delayed and frustrated".

Do you have confidence in her as a leader? Vote below 👇

Find out more here: https://t.co/tqWKG9uNiU

— Sky News (@SkyNews) November 18, 2018
"I will be going back to Brussels," May told Sky News, saying she would meet with European Commission President Jean-Claude Juncker this week.
"We won't agree the leaving part… until we've got what we want in the future relationship, because these two go together."
She also addressed the potential leadership challenge, claiming that a new party leader "isn't going to make the negotiations any easier," and threatened that ousting her would "risk that we actually delay the negotiations and that's a risk Brexit gets delayed or frustrated."
Westminster voting intention:

LAB: 40% (-)
CON: 36% (-3)
LDEM: 9% (-)
UKIP: 7% (+2)
GRN: 3% (+1)

via @ComRes, 14 – 15 Nov
Chgs. w/ Sephttps://t.co/TicKpFW7jj

— Britain Elects (@britainelects) November 17, 2018
Dominic Raab MP, who resigned as Brexit secretary last week over the agreement, said on Sunday that May had allowed the UK to be "bullied and blackmailed" by the EU in negotiations and that there was a lack of  "political will" to show the bloc that Britain would withdraw from negotiations over unfavourable terms, saying:
"I think there is one thing that is missing and that is political will and resolve. I am not sure that message has ever landed."
Raab said the agreement was "fatally flawed" but that, in fact, it was not too late to change it.
"I still think a deal could be done but it is very late in the day now and we need to change course," he told the BBC's Andrew Marr Show on Sunday.
Raab: May Has Allowed UK to Be 'Bullied and Blackmailed' by Brussels, Brexit Deal 'Fatally Flawed' https://t.co/whaj6QR4dk

— Breitbart London (@BreitbartLondon) November 18, 2018
Member of the European Research Group Mark Francois, who has submitted a letter of no confidence to the 1922 Committee, dissected May's response to the backstop issue, saying:
"The prime minister said that would only be temporary. That is, technically, I think, not quite right. Because once you go into the backstop you can only then leave the backstop if the EU agrees to let you out. You've surrendered your sovereignty."
"The prime minister was loathed to admit that," said Mr Francois on Sky News. "Tory MPs understand that point and that is why they won't vote for it."
"No deal would be better than this nonsense," he added.
http://feedproxy.google.com/~r/breitbart/~3/X5zMlPVPqB0/