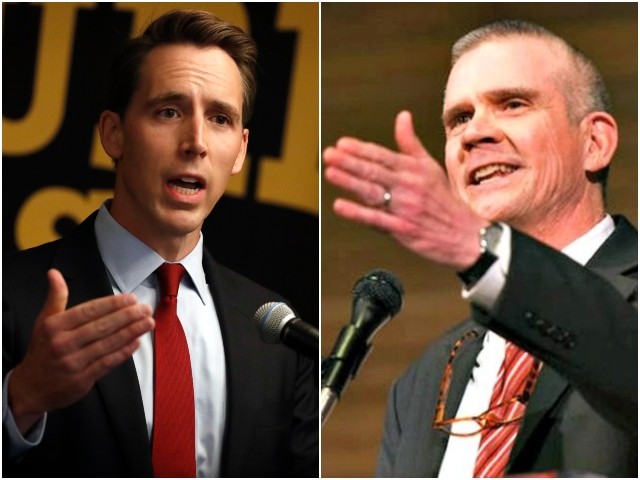 CBS/YouGov polls show Republicans are in good shape to pick up U.S. Senate seats in Montana and Missouri.
In his race against incumbent Democrat Sen. Claire McCaskill in Missouri, Josh Hawley is tied 45 to 45 percent. This is the fourth consecutive poll to show the pair tied. As of now, in the Real Clear Politics poll of polls, the Republican is clinging to a statistically insignificant .4 percent lead.
The good news for Hawley is that McCaskill has not hit 50 percent in a single poll, which is usually a bad sign for the incumbent.
In Montana, Democrat incumbent Sen. Jon Tester leads his Republican challenger, Matt Rosendale, by only two points, 47 percent to 45 percent.
Currently, Real Clear Politics poll of polls shows Tester with a 4.3 percent lead. Not much polling has come out of Montana, but Tester's lead has dwindled from an eight-point advantage in June to just two points currently.
As of now, Republicans hold a narrow 51-49 majority in the U.S. Senate and are also hoping to pick up Florida and North Dakota, where the Republican challengers are now in the lead, and Indiana, where the Republican appears to be closing in fast.
Of course, the GOP is also defending its own territory in Tennessee and Nevada, which could fall either way.
Two possible election night shockers are brewing in New Jersey and Texas.
Because of his legal and ethical problems, incumbent Sen. Bob Menendez (D-NJ) is in a tighter-than-expected race to hold his seat.
In Texas, Sen. Ted Cruz is barely three points up on his Democrat challenger, Beto O'Rourke.
The problem for O'Rourke is his polling average is just 41 percent, and he has yet to poll over 45 percent in any poll. While Cruz should be walking away with this, four polls have at least shown him in the range of 49 to 51 percent. 
Follow John Nolte on Twitter @NolteNC. Follow his Facebook Page here.
http://feedproxy.google.com/~r/breitbart/~3/mzgHtj6NQJI/