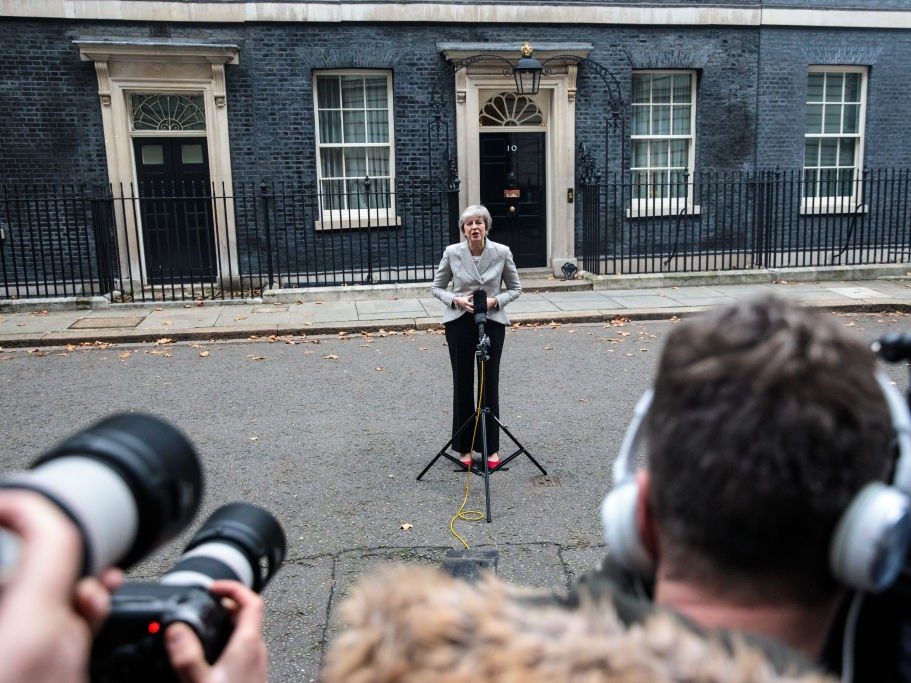 A poll of British voters has revealed widespread discontent with the prime minister's Brexit deal, with more people saying it does not honour the 2016 referendum than saying it does, and many even arguing May's 'deal' is actually worse than the status quo.
Some 43 per cent of Brits said Theresa May's withdrawal deal struck with the European Union after over two years of first stalling then compromising failed to honour the result of the Brexit referendum in 2016, compared to just 19 per cent who said it did. A sizable proportion, 38 per cent, did not have an opinion either way.
The Brexit referendum was the largest exercise in democracy in British history and saw supporters of leaving the European Union outvote remainers by a margin of over one million, sending a powerful message to the political class to pull Britain out of the continental power bloc.
From what you have read or heard, does the draft Brexit agreement honour the referendum result? Is it better or worse than no deal? Better or worse than remaining on our current terms? pic.twitter.com/GxQs3YQVde

— Lord Ashcroft (@LordAshcroft) November 23, 2018
The new polling by British billionaire and political donor Lord Ashcroft split the responses to May's Brexit deal by voting behaviour and showed that leave voters were most likely to dislike May's deal, but a belief that it doesn't honour the referendum outweighs the alternative in every category.
Leave voters were evenly split with one third each to yes, no, and don't know on the question over whether the deal was better than staying in the EU on the present terms, but overall Brits were more likely to believe May's agreement was actually worse than Britain's already disadvantageous relationship with the European Union.
Although the results were bad news for the Prime Minister, there was little to cheer on her political opponents either. Her stock was rising among both 2016 remain and 2017 general election Labour voters, with the present trend suggesting soon the bulk of remain voters will prefer her as a better prime minister than Jeremy Corbyn, and poll respondents in general preferred a Conservative government to a Labour one, 53 to 47.
Remarkably, among Labour leave voters 75 per cent said it was more important to them to get a full Brexit than have a Labour government with Jeremy Corbyn as prime minister.
Indeed, not a single political figure offered polled better than Theresa May as a potential better Prime Minister, with even Boris Johnson — the reluctant Tory Brexiteer often cited as a next leader — losing out to Jeremy Corbyn and even David Cameron and being closely followed by Jacob Rees-Mogg.
A second referendum to choose between the draft deal and no deal? Or between the draft deal and remaining in the EU? pic.twitter.com/wAQeW3gkfA

— Lord Ashcroft (@LordAshcroft) November 23, 2018
The polling comes as the British Prime Minister fights to push through her Brexit deal, with has been described by Brexit leader Nigel Farage as "the worst deal in history," in the face of broad opposition.
When the details of the deal — which critics claim will see the United Kingdom reduced to the position of a vassal state under the European Union and which utterly fails to deliver on the spirit or text of the 2016 referendum — leaked last week, the prime minister immediately faced claims of an imminent leadership challenge. Yet over a week later that has yet to materialise, as Brexiteers within the parliamentary Conservative Party failed to mobilise.
The prime minister will go to the European Union on Sunday to seek approval for the deal, before the March 2019 official departure date which will see its provisions put into operation.
Developing: Theresa May Claims Her Deal 'Brings Back Control', But Text of Her Draft Agreement Suggests Otherwise https://t.co/OZVm1YEXoW

— Breitbart London (@BreitbartLondon) November 22, 2018
Oliver JJ Lane is the editor of Breitbart London — Follow him on Twitter and Facebook
http://feedproxy.google.com/~r/breitbart/~3/6WYFIPuDykY/