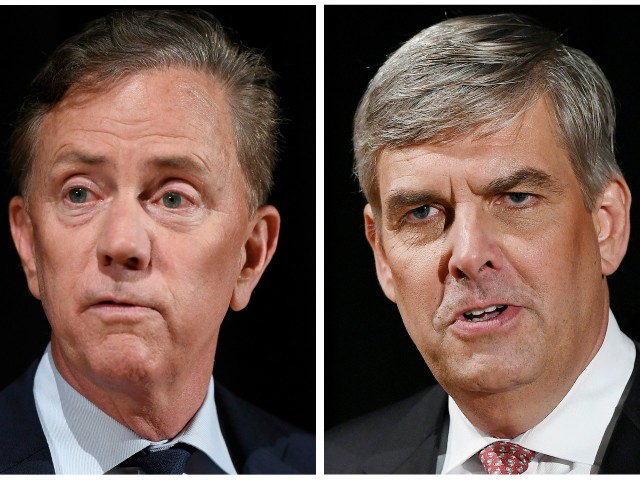 The race for governor in Connecticut is tightening as Republican candidate Bob Stefanowski closes in on Democrat Ned Lamont, according to polling.
Political outsider Stefanowski and repeat candidate Lamont are in a statistical tie, says a poll released Tuesday by Sacred Heart University and Hearst Connecticut Media Group. The survey found 39.5 percent of "likely" voters support Lamont, while 36.1 percent favor Stefanowski.
In an interview with Breitbart News in July prior to the primary race, Stefanowski said, "The economy is 70 percent of what people care about most. That's right in my strike zone."
"The second issue is sanctuary cities – which I'm absolutely against," the GOP candidate asserted. "You can't pick and choose what federal laws you're going to follow. We need to start shutting off funding to those cities that aren't following the law."
The poll, which has a 4.3 percent margin of error, also showed that 8.4 percent back Oz Griebel, an independent, and 14.8 percent are unsure whom they support.
"As we have said from the beginning, this race will continue to move in Stefanowski's direction as voters realize that Ned's Lamont's policies are the same ones that put our state in its current position," Stefanowski campaign spokesman Kendall Marr said, according to CT Mirror. "When it comes to Ned, Oz, and [Gov.] Dan Malloy, they are three peas in a pod."
"[T]he polls also seem to indicate that Ned's approach of spending millions of dollars running blatantly false attack ads is not paying off with voters," Marr continued. "The polls reflect that Ned is developing a bit of a credibility issue with voters who are turned off by his desire to raise taxes and his dishonest ads."
Outgoing Democrat Gov. Dannel Malloy has been one of the least popular governors in the nation, largely due to the state's substantial fiscal crisis (71 percent disapproval). In his wake, Malloy leaves total unfunded liabilities and debt in the amount of $87 billion and a $1.9 billion budget deficit for fiscal year 2020, followed by a $2.5 billion deficit in 2021, according to Yankee Institute for Public Policy.
According to his website and the Hartford Courant, Lamont stands for establishing tolls on the state's highways, addressing human-induced climate change, more restrictive gun laws, investing more money in public schools, a $15 minimum wage, paid family and medical leave, and raising taxes on the wealthy.
According to the Mirror, Lamont campaign manager Marc Bradley said:
Polls go up and down, but one thing has remained consistent: Bob Stefanowski's tax scheme will eliminate more than half the state's revenue, forcing property taxes to rise dramatically in every one of Connecticut's 169 towns and cities while decimating education, health care and public safety.
Stefanowski has said he would phase out the state income tax over eight years.
The Sacred Heart/Hearst poll shows Stefanowski is leading Lamont 43.2 – 24.0 percent among unaffiliated voters, while 13.7 percent of that same group back Griebel.
According to the survey, 50.0 percent of female voters support Lamont, compared to 25.2 percent of female voters who support Stefanowski. However, 47.0 percent of male voters back Stefanowski, compared to 29.1 percent of male voters who support Lamont.
A Quinnipiac University poll of "likely" voters released two weeks ago found Stefanowski trailing Lamont by eight percentage points. Women voters backed Lamont over Stefanowski 53-31 percent.
"Ned Lamont is ahead in the Connecticut governor's race, but with 27 days to go, Bob Stefanowski is within striking distance," said Quinnipiac University Poll Director Douglas Schwartz, PhD, at the time of that poll's release.
"The number one issue for Connecticut voters is the economy, and Lamont wins decisively among those voters," he added. "Voters also say, however, that the most important quality in a candidate for governor is the ability to bring needed change, and among those voters, Stefanowski wins big."
http://feedproxy.google.com/~r/breitbart/~3/ovrSTUas0xs/