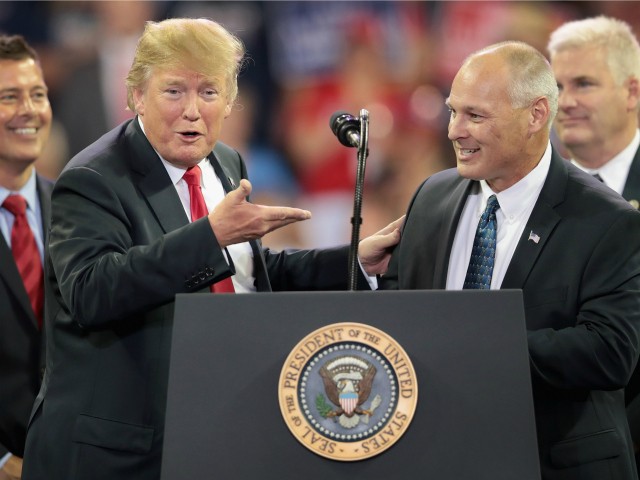 Minnesota County Commissioner Pete Stauber leads former State Rep. Joe Radinovich (D-MN) by 15 points, according to a poll released on Monday.
Minnesota Republican Stauber leads Radinovich by 15 points—49 to 34 percent—in Minnesota's Eighth Congressional District. Thirteen percent of Minnesota voters remain undecided, and the margin of error is 4.6 percent, giving Stauber a comfortable lead over the Minnesota Democrat. The previous Times poll showed Radinovich leading by only one point, making the latest poll a 14-point growth towards the Minnesota Republican.
Breitbart News reported that MN-8 is one of the key congressional districts that Republicans must flip to help maintain their majority in the House of Representatives. Further, of the 65 must-win House races, four of them reside in Minnesota.
Minnesota could serve as another area where Republicans could gain stronger ground in future elections. The state nearly went for Donald Trump during the 2016 presidential election, though it had not voted for a Republican presidential candidate since Richard Nixon in 1972.
Breitbart News's economics editor, John Carney, explained in June that President Trump's emphasis on American manufacturing and America First trade policies has revitalized Minnesota's Iron Range.
Stauber's support continues to grow heading to the November midterms. The Duluth News Tribune endorsed Stauber for the congressional seat in an editorial on Sunday.
The Minnesota paper noted that Stauber has an "impressive lifetime of public service" and that no one can deny his "unwavering devotion and commitment to us in Northeastern Minnesota."
The Tribune explained:
Stauber was a Duluth police officer for 23 years and a Hermantown city councilor for eight years. He's serving his second term as an elected member of the St. Louis County Board. He was a union organizer and union president. And he's a business owner; he and his brothers started the Duluth Hockey Company nearly three decades ago.
The Tribune concluded in its editorial, "All voters in the 8th District can embrace Stauber's commitment to them, no matter their politics, confident he has made good on similar pledges made during a lifetime of devoted public service."
http://feedproxy.google.com/~r/breitbart/~3/S3KaO50NftQ/