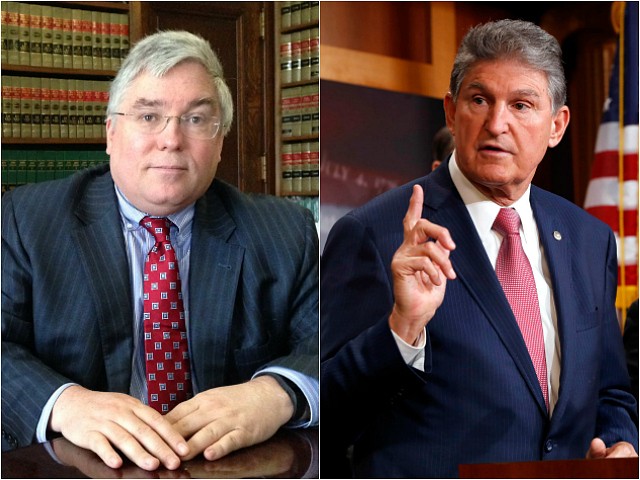 West Virginia Attorney General Patrick Morrisey and Sen. Joe Manchin (D-WV) are in a dead heat for the West Virginia Senate seat, according to a poll released on Thursday.
A survey commissioned by 1892 Polling for Morrisey's campaign revealed that Morrisey and Manchin are tied with 45 percent. The 1892 Polling survey found that ten percent of voters remain undecided. The margin of error for the poll is 4.4 percent.
The poll also finds that Morrisey leads amongst independent voters by four points—41 to 37 percent; however, 22 percent of independent voters have yet to make up their minds.
Thursday's poll also found that President Donald Trump has a 57 percent approval rating and 38 percent view Trump unfavorably. Trump won West Virginia during the 2016 presidential election by more than 40 points.
Other polls in the West Virginia race have Manchin leading against Morrisey. An Emerson survey released in September found that Sen. Manchin leads by 12 points, while a MetroNews poll found that the West Virginia Democrats leads by eight points. Overall, RealClearPolitics has Sen. Manchin leading by 9.3 points in the polling average of the Senate race.
Attorney General Morrisey mocked Sen. Joe Machin's "D" rating from the National Rifle Association (NRA) in September, while touting his "A+" rating from the NRA.
Manchin tweeted, "Pat, we know you are new to West Virginia and have never had a hunting license, but we can teach you how to hold a gun properly."
Unlike you, Liberal Joe, I don't want to take peoples' guns away… BTW, Congrats on your "D" rating from the @NRA. #wvpol #wvsen https://t.co/VEefqKzpfL

— AG Patrick Morrisey (@MorriseyWV) September 6, 2018
Morrisey tweeted back, "Morrisey responded, "Unlike you, Liberal Joe, I don't want to take peoples' guns away… BTW, Congrats on your "D" rating from the NRA."
Chris Cox, chairman of the NRA Political Victory Fund (NRA-PVF), said in a statement in September:
As attorney general of West Virginia, Patrick Morrisey has strongly supported the Second Amendment, and we can trust him to defend our constitutional rights in the U.S. Senate. Unlike Joe Manchin, Morrisey will stand strong against the Nancy Pelosi and Chuck Schumer anti-gun agenda.
"Gun owners in West Virginia deserve a trustworthy, consistent advocate for their Second Amendment freedoms. Joe Manchin has lost their trust," Cox added. "Patrick Morrisey has earned it. The NRA encourages all freedom-loving West Virginians to vote for Morrisey in November."
Morrisey will host a campaign rally with President Trump this Saturday in Wheeling, West Virginia, to rally West Virginia voters to rally behind Morrisey for U.S. Senate.
Join me this Saturday in Wheeling, West Virginia at 7pmE! Tickets: https://t.co/JyRaBps0eR pic.twitter.com/hiruLIxa7w

— Donald J. Trump (@realDonaldTrump) September 26, 2018
http://feedproxy.google.com/~r/breitbart/~3/sP_p2FZEAv8/