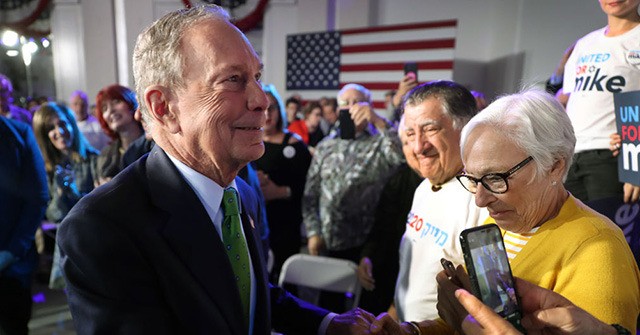 Former New York City Mayor Michael Bloomberg (D) has jumped to second place in Florida, a St. Pete Polls survey released Wednesday found.
The survey, commissioned by Florida Politics, showed Joe Biden (D) leading the field in the Sunshine State with a massive 41 percent support — a full 24 points ahead of his closest competitor.
Notably, though, neither Sen. Bernie Sanders (I-VT) nor Sen. Elizabeth Warren (D-MA) took second place. That went to Bloomberg, who saw 17 percent support.
Vermont's socialist senator fell eight points behind with nine percent support, followed by Warren, Pete Buttigieg (D), and Sen. Amy Klobuchar (D-MN) with seven percent, six percent, and five percent respectively. Both Andrew Yang (D) and Tom Steyer (D) tied with two percent support each, and the remaining candidates saw one percent support or less. Ten percent of likely Florida Democrat primary voters remain undecided, according to the survey.
The St. Pete Polls survey was conducted on January 27-28, 2020, among 2,590 likely Florida Democrat primary voters. The margin of error is +/- 1.9 percent:
Biden 41%
Bloomberg 17%
Sanders 9%
Warren 7%
Buttigieg 6%
Klobuchar 5%
Yang/Steyer 2%https://t.co/2hPocVgBWB

— Political Polls (@PpollingNumbers) January 29, 2020
Bloomberg has spent millions on Florida and campaigned in Tampa over the weekend. Former Miami Mayor Manny Diaz recently joined the Bloomberg campaign as a policy adviser and political co-chair.
As Florida Politics points out, Bloomberg has been gathering additional political star power:
Bloomberg has also been building out his Florida campaign, adding some strong political talent to his team this week. He hired Reggie Cardozo, former Senior Adviser to Florida House Victory, as his Florida Senior Adviser as well as Ron Bilbao as Deputy State Director, Caroline Rowland as Communications Director, Brandon Philipczyk as Operations Manager and Maria Bilbao as Digital Director.

Ron Bilbao has held roles with the Florida Education Association, SEIU and ACLU. Rowland is the former Communications Director for the Florida Democratic Party (FDP). Philipczyk is the FDP's former COO and worked as the Florida Operations Director for Barack Obama back in 2012. Mario Bilbao is the former Director of Florida Watch and the President and owner of Breakthrough Communications.
Wednesday's RealClearPolitics average analyzing the race in Florida shows Bloomberg on Sanders' heels for second place, with 12 percent to Sanders' 12.7 percent.
Florida's Democrat primary will take place on March 17, 2020.
http://feedproxy.google.com/~r/breitbart/~3/15iHiMbnnOo/