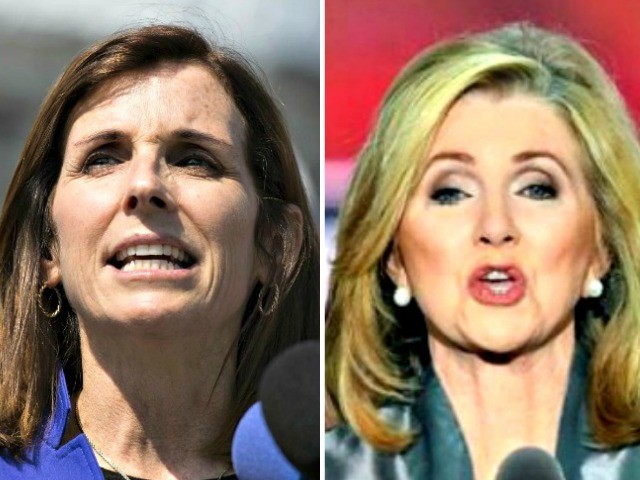 Republicans are receiving more good news Wednesday morning, as Rep. Martha McSally (R-AZ)–the GOP nominee for U.S. Senate in Arizona–has taken a solidified lead over Democrat nominee Rep. Kyrsten Sinema (D-AZ).
McSally, in this latest poll released Wednesday, leads Sinema by six percent in their bid to replace retiring Sen. Jeff Flake (R-AZ). At 47 percent, McSally has pulled far ahead of Sinema's 41 percent. Green Party candidate Angela Green gets four percent of the vote, and eight percent are undecided.
The survey was conducted from Oct. 1 to Oct. 2, with a sample size of 600 and a margin of error of four percent–which means that McSally's lead of six percent is outside the poll's margin of error. The poll was conducted by pollster Mike Noble's OH Predictive Insights and ABC15, a local television network.
"Our September 5th poll showed McSally taking the lead over Sinema and continues to lead into October," Noble, OH Predictive Insights' chief pollster, said in a release. "The combination of Angela Green entering the race and Trump's approval increase is having a negative effect on Sinema, making her numbers go down."
Other polls as of late have had McSally struggling a bit over the month of September, trailing Sinema inside the margin of error. McSally, in fact, has not led Sinema since the first week of September, when the last ABC15 poll and a Gravis survey came out as a pair of polls showing her with a minimal lead inside the margin of error against Sinema. Now, though, as Republicans solidify their advantage in Senate contests elsewhere nationally, McSally seems to have broken through in one of the key states Republicans need to hold to hang on to and expand their Senate majority.
Republicans in other recent surveys have taken commanding leads in other states as well. For instance, despite a scare earlier in the cycle, the race in Texas where incumbent GOP Sen. Ted Cruz (R-TX) faces Democrat Senate nominee Rep. Beto O'Rourke (D-TX) seems to have calmed down, with a grouping of recent polls showing Cruz recovering a comfortable lead. Recent CBS/YouGov and Emerson polls have Cruz back in front, and early results from an as-of-Tuesday-evening-still-ongoing New York Times/Siena College live poll have Cruz comfortably ahead of O'Rourke.
In Tennessee, where Republicans also had a minor scare in a deep red state, GOP senatorial nominee Rep. Marsha Blackburn (R-TN) has pulled way out in front of Democrat Senate candidate former Gov. Phil Bredesen. A Fox News survey out a few days ago has Blackburn, a strong ally of President Donald Trump, up five percent, where a CBS/YouGov poll puts her up eight percent over the Democrat Bredesen. In a New York Times/Siena College live poll being conducted on Tuesday, as of late Tuesday night Blackburn has taken a nearly 20-point lead. With 366 responses, Blackburn's 57 percent towered over Bredesen's 39 percent in deep-red Tennessee.
Over in Nevada, the other GOP-held Senate seat considered in play in November, Sen. Dean Heller (R-NV)–a tough incumbent fighting for re-election in the wild western state–seems to have finally broken out a minimal lead over his Democrat challenger Rep. Jacky Rosen (D-NV). A just-published NBC News/Marist poll found Heller with a two percent advantage over Rosen, leading 46 percent to 44 percent. Meanwhile, a live New York Times/Siena College poll being conducted on Tuesday evening has Heller either tied with Rosen at 46 percent late Tuesday night or ahead by a percent 46 to 45 percent.
If Republicans can hold these four seats–Texas, Tennessee, Arizona, and Nevada– as polling now indicates they will, they will hold the U.S. Senate majority without even having to flip any seats from Democrat control. But the GOP's chances elsewhere in the country are on the rise in the wake of the Democrats' failed smear campaign against now Supreme Court Justice Brett Kavanaugh.
In North Dakota, for instance, Democrat incumbent Sen. Heidi Heitkamp (D-ND) trails her GOP opponent Rep. Kevin Cramer (R-ND) by double digits in a pair of polls, significantly lagging due to her decision to vote against Kavanaugh's nomination. In Indiana, recent surveys have had businessman and GOP nominee for U.S. Senate Mike Braun inside the margin of error, statistically tied with Democrat incumbent Sen. Joe Donnelly (D-IN). In Florida, GOP Senate nominee Gov. Rick Scott is also inside the margin of error against incumbent Democrat Sen. Bill Nelson (D-FL) in recent surveys.
Down in Missouri, a number of recent polls have had GOP Senatorial nominee Attorney General Josh Hawley leading or tied with incumbent Democrat Sen. Claire McCaskill (D-MO)– with only a single poll, from CNN, showing a McCaskill lead. Up in Montana, while polling has been scant, sureys in late September show incumbent Democrat Sen. Jon Tester either tied or statistically tied with GOP challenger Matt Rosendale.
Meanwhile, in West Virginia, polling has Sen. Joe Manchin (D-WV)–the only Democrat to vote for Kavanaugh in the Senate–ahead of his GOP challenger Attorney General Patrick Morrisey comfortably, but anything can happen in West Virginia, a state where President Trump remains popular and intends to keep campaigning for Morrisey.
If Republicans hold those top four races, and flip each of these other seats, they could emerge from this midterm with 57 seats in the U.S. Senate heading into 2019. That is not to mention other places that could be competitive in the end, based uponearly polling, such as New Jersey, Wisconsin, Virginia, Ohio, Michigan, or Pennsylvania–where Republicans could come out the other end victorious if some things go right for the GOP in any of these states.
http://feedproxy.google.com/~r/breitbart/~3/DgsSJL5DJ0o/