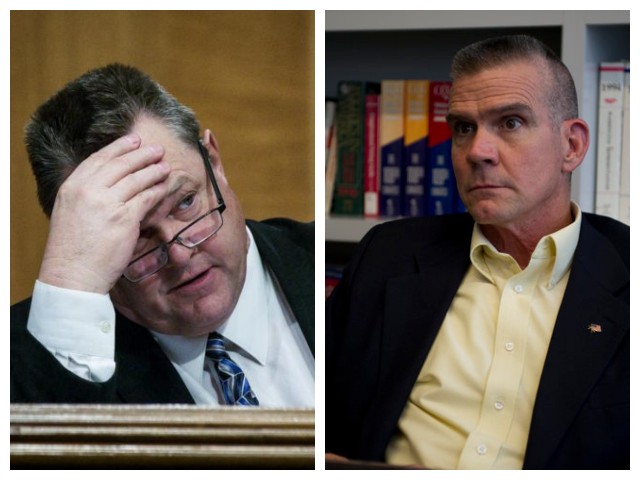 Montana state auditor Matt Rosendale and Sen. Jon Tester (D-MT) are in a virtual tie, according to a National Republican Senatorial Committee (NRSC) poll released on Thursday.
A survey of likely voters from the National Republican Senatorial Committee (NRSC) found that each candidate is tied at 44 percent, while eight percent of voters remain undecided. The poll has a margin of error at 4.47 percent. The NRSC poll mirrors similar surveys.
One CBS/YouGov poll released this Monday found that Tester leads against Rosendale by two points and the gap has closed from in June. Another poll released in late August had Rosendale leading by two points.
The NRSC has spent roughly $3 million in the race so far, signaling their belief that Rosendale can unseat the two-term Montana Democrat.
Brenda Gianiny, a polling expert at Axis Research, wrote in a memo for the NRSC that attack ads are beginning to wither down the Montana Democrat's popularity in the state.
"These shifting attitudes towards Senator Tester are impacting his standing on the ballot," Gianiny wrote.
Several polls released recently found that the race has become increasingly competitive, especially in a state that Donald Trump won during the 2016 presidential election by 20 points. The NRSC poll found that a majority of Montanans had a favorable view of President Trump.
In contrast, Tester's approval rating has dropped from 53 percent in July to 48 percent. Forty-eight percent of state voters view Tester favorably; Sen. Tester's favorability has dropped from 12 percent positive to only three percent positive.
Forty-two percent of Montanans reported seeing, reading, or hearing something that gave them an unfavorable impression of the senator.
A Fox News report this week revealed that Sen. Tester has campaigned as an advocate of hunting – even though he has not had a hunting license in six years, the last time he was up for re-election. In contrast to Sen. Tester, Rosendale has had a hunting license every year since 2002.
Rosendale's advocacy for gun rights has earned him the endorsement of the National Rifle Association (NRA). NRA Institute for Legislative Action (NRA-ILA) said that Rosendale is an "ardent supporter" of gun rights and received an "A" rating from the NRA on the organization's key issues.
The NRA's endorsement of Rosendale became especially significant because the organization declined to endorse either Sen. Tester or Republican Denny Rehberg in the 2012 Montana Senate race.
Rosendale released a new ad campaign ad last week in which President Donald Trump slams Sen. Jon Tester for being one of the top recipients of lobbyist cash during the 2018 election cycle.
Trump said that Tester "will never drain the swamp because he loves the swamp."
http://feedproxy.google.com/~r/breitbart/~3/9kZ1Mze1_nA/