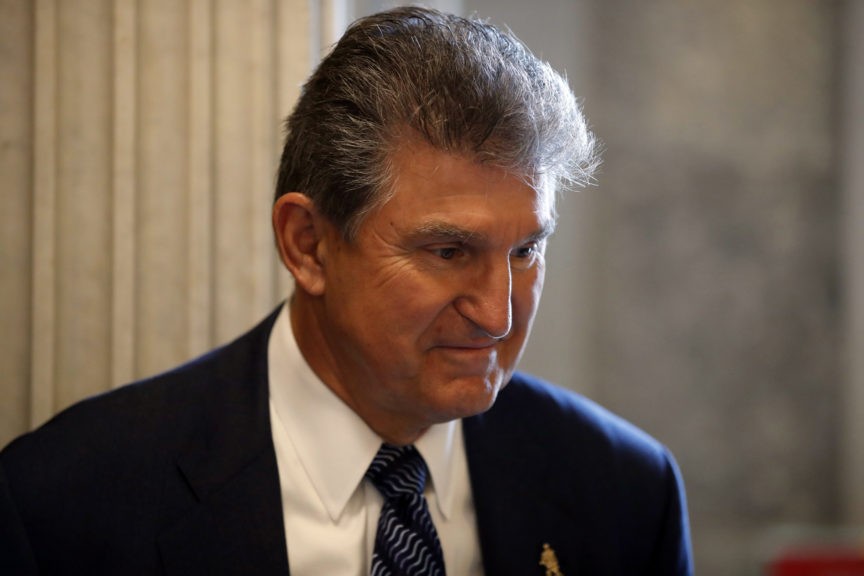 Sen. Joe Manchin's (D-WV) lead in the polls slipped to only four points over West Virginia Attorney General Patrick Morrisey ahead of a critical decision over whether the senator will decide to vote to confirm Supreme Court Justice nominee Judge Brett Kavanaugh.
A poll commissioned by the Senate Leadership Fund, a leading Senate Republican super PAC, showed that Sen. Manchin has 47 percent of the vote, while Morrisey has 43 percent, resulting in only a four-point gap between the incumbent Democrat and his Republican challenger.
Five percent of voters remain undecided, with the margin of error for the poll at 4.1 points, making the West Virginia Senate race within Morrisey's grasp to win the Senate election in November.
The Senate Leadership Fund poll contrasts with another survey conducted by the Democrat firm Global Strategy Group which found that Manchin leads by double digits.
The Republican poll, however, found that President Donald Trump has a 58 percent approval rating in West Virginia. The survey also suggested that 19 percent of Trump voters back Manchin, although most of these voters said that they would be less likely to support Manchin if he opposes Kavanaugh for the Supreme Court.
Several polls released over the last couple of weeks found that a majority of West Virginians want Kavanaugh confirmed to the Supreme Court. A survey from the Judicial Crisis Network (JNC) found that 58 percent of West Virginians want Kavanaugh confirmed, compared to only 28 percent who do not want him to join the nation's highest court.
Another poll from the West Virginia Metro News found that 58 percent of West Virginians also want Kavanaugh confirmed to the Supreme Court.
Sen. Manchin represents a deep-red state that went for Donald Trump during the 2016 presidential election by 42 points, and he faces intense pressure to back Kavanaugh for the Supreme Court.
Politico reported on Thursday that Sen. Manchin continues to remain on the fence; however, the outlet suggested that he is likely leaning towards "Yes."
The outlet did suggest – despite reports that Manchin is leaning yes – that he does not want to be the deciding vote to confirm Kavanaugh; however, he would be willing the becoming the "51st or 52nd" vote to confirm.
Attorney General Morrisey told Breitbart News in an exclusive statement on Thursday that Manchin is "gutless" for failing to provide leadership on such a crucial confirmation vote as this Kavanaugh's vote.
"Manchin is gutless and incapable of being the deciding vote for anything that President Trump is seeking to accomplish," Morrisey said. "Only when Schumer and his liberal donors give him permission and the votes are already there,will Manchin vote the right way."
http://feedproxy.google.com/~r/breitbart/~3/SNP70TaGzyo/