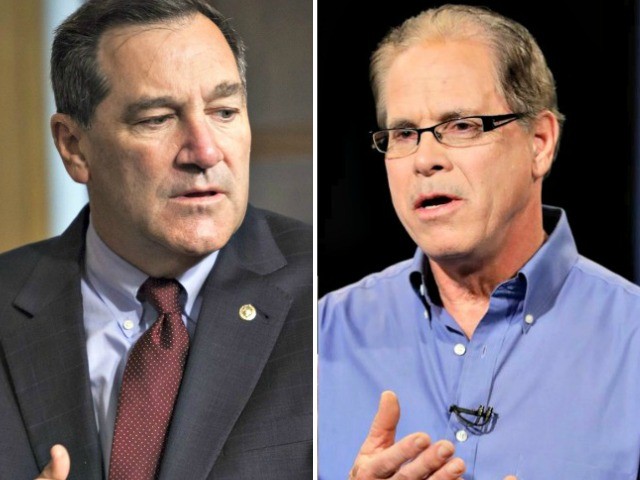 The Indiana Senate race continues to trend towards Hoosier businessman and Republican candidate Mike Braun over Sen. Joe Donnelly (D-IN), according to a poll released on Tuesday.
An Indy Politics & Mason Strategies poll released on Tuesday found that Braun leads Donnelly by four points—47 to 43 percent—with Libertarian Lucy Brenton capturing three percent and seven percent of Hoosiers remain undecided.
Josh Kelley, a campaign spokesman for Braun, said in a statement that Braun has the momentum on his side two weeks ahead of the November midterm election.
"Mike Braun has all the momentum in this race because Hoosiers are excited to send a job creator, an outsider, and a doer to represent them in Washington, and Senator Donnelly's campaign is on the ropes because Hoosiers are fed up with politicians who will say anything to keep their job," Kelley said.
Stephen Spiker of Mason Strategies said on Tuesday that the poll's 3.9 percent margin of error essentially makes the Indiana Senate race a tie; however, the survey does serve as a worrying signal for the incumbent Democrat who has continued to lose ground in the contentious Indiana Senate election.
"When applying the margin of error to each candidate's vote share, the race is statistically tied," Spiker explained. "However, two weeks before the election you'd rather be Mike Braun than Joe Donnelly with these numbers."
The survey also said that Sen. Donnelly's vote against confirming Judge Brett Kavanaugh to the Supreme Court gave Braun a five-point advantage over the Hoosier Democrat. Thirty-five percent of likely voters said that Donnelly's vote against Kavanaugh made it less likely that they will vote for Donnelly, compared to 30 percent who said that his vote against Kavanaugh would make it more likely to back Donnelly, while 32 percent of votes said Donnelly's vote against Kavanaugh would not impact their decision for the November Senate election.
The Indy Politics poll also found that Republicans have nearly matched Democrats in voter enthusiasm. Seventy-two percent of Braun voters said that they are "extremely" or "very" interested in voting this November, compared to 74 percent of Braun voters. Forty-two percent of Braun voters said that their enthusiasm is "extreme" compared to 41 percent of Donnelly voters.
The Indy Politics poll serves as the second poll released this week which had Braun leading. A survey conducted by the Braun campaign found that Braun leads Donnelly by four points. The Braun survey also found that Donnelly has a net unfavorable rating and that 45 percent of Hoosier voters believe that Donnelly serves as part of the "problem" in Washington, DC, compared to only 34 percent that believe Democrat serves as part of the "solution" to America and Indiana's problems.
A third poll conducted by the Indiana Business Journal found that Donnelly only leads by one point– 41 to 40 percent– while Brenton has eight percent of the vote, and the survey has a 4.6 percent margin of error. The Journal's poll puts victory in the Indiana Senate race well within his grasp.
Spiker noted that in a state that Donald Trump won during the 2016 presidential election by 20 points, Donnelly needs the momentum to reverse direction towards him for him to win the Indiana Senate race.
"Joe Donnelly needs a lot of things to break his way. Some of them are, but it may not be enough as voters in both parties consolidate and turn out," Spiker said.
http://feedproxy.google.com/~r/breitbart/~3/0LrBjDmtzhM/