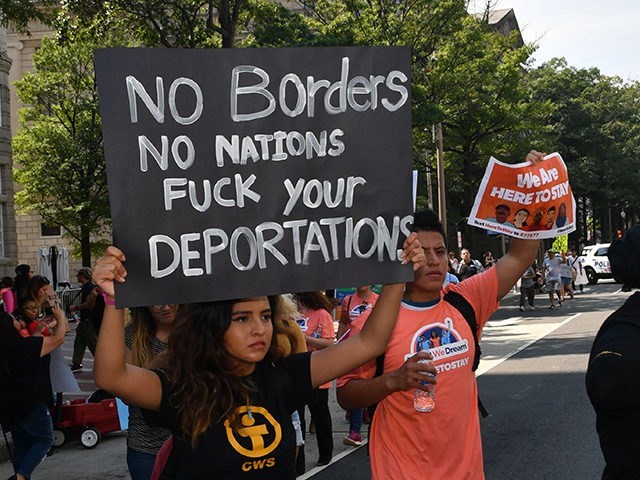 Immigration continues to be the most important issue for supporters of President Trump, Republican voters, and conservatives, a new poll reveals.
The latest monthly Harvest/Harris Poll finds that for the nearly entire year of 2018, immigration has been the biggest priority to Trump supporters and conservatives. About 57 percent of conservatives and 55 percent of Trump supporters said immigration is the number one issue facing the nation.
Likewise, Republican voters — about 52 percent — say immigration is their most important issue, while all U.S. voters say healthcare and immigration are their biggest concerns today.
As Breitbart News reported, amid skyrocketing illegal immigration at the U.S.-Mexico border, increasing enforcement at the border is the second most important priority to all voters, following job creation and the economy.
Poll after poll for the last eight months has found that the country's mass importation of foreign nationals every year is of the utmost concern to conservatives and Trump supporters. At the same time, the Republican-controlled Congress and the Trump administration have failed to secure even the most basic funding to secure the U.S.-Mexico border and deter illegal immigration.
Every year, the U.S. admits more than 1.5 million foreign nationals, with the vast majority deriving from family-based "chain migration," whereby newly naturalized citizens can bring an unlimited number of foreign relatives to the country.
In 2017, the legal and illegal immigrant population reached a record high of 44.5 million. By 2023, the Center for Immigration Studies estimates that the legal and illegal immigrant population of the U.S. will make up nearly 15 percent of the entire U.S. population.
John Binder is a reporter for Breitbart News. Follow him on Twitter at @JxhnBinder. 
http://feedproxy.google.com/~r/breitbart/~3/mLJxf9MwiHA/