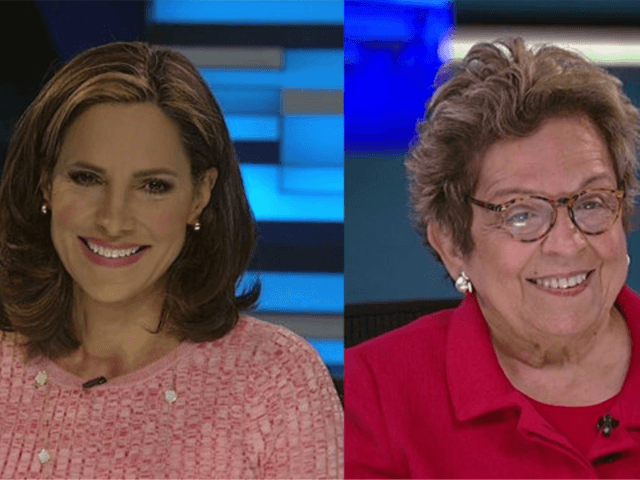 Republican nominee Maria Elvira Salazar leads former Clinton Foundation CEO and Clinton administration official Donna Shalala by nine points, 50 percent to 41 percent, in Florida's 27th Congressional District, according to an internal poll conducted by McLaughlin & Associates and released by the Salazar campaign on Tuesday.
Breitbart News recently identified the district as one of twenty remaining toss-up districts in the midterm elections whose outcomes will determine which party controls the House of Representatives when the 116th Congress convenes in Washington, D.C., this January.
When incumbent Rep. Ilyana Ros-Lehtinen (R-FL-27) announced that she was retiring, the 77-year-old Shalala was expected to easily win the seat, but the campaign has not gone well for her so far.
"The narrow Democratic primary victory in August by 77-year-old Donna Shalala, the former Secretary of Health and Human Services in the Bill Clinton administration, and the emergence of a rising Republican star as her general election opponent, former Spanish language broadcaster Maria Elvira Salazar, has catapulted the race from "Likely Democratic" to "Toss-up," as Breitbart News reported earlier this month:
The Sunshine State News reported that Salazar "has been remarkably efficient in using her name strength in Congressional District 27 to her advantage, and has turned this into a competitive race."

Salazar also speaks both Spanish and English, while Shalala speaks only English, a key disadvantage for her because "the district is heavily Latino, with 57 percent of the registered voters being Hispanic."

"Salazar also has an edge beyond her name advantage — she can campaign comfortably in the area to most audiences because she is bi-lingual; Shalala is not," the Sunshine State News noted

Just as Hillary Clinton failed to generate the requisite enthusiasm among Florida voters to win the state's electoral college votes in the 2016 Presidential election, the enthusiasm gap for Shalala among rank and file Democrats in the 27th Congressional District is palpable.
Shalala served as CEO of the Clinton Foundation from 2015 to 2017.
"After a two-year stint amid a bruising U.S. presidential campaign for the Clintons, Shalala, 76, called it a wrap Tuesday as president and chief executive of the Bill, Hillary & Chelsea Clinton Foundation," the Miami Herald reported in April 2017.
The Salazar campaign released the poll results in this tweet Tuesday morning:
I am honored by all the support we are receiving. The results of this latest poll clearly show the confidence the voters have in my ability to lead on the important issues that matter most to our community. Now, our hard work continues. #MariaElviraSalazarForCongress #FL27 pic.twitter.com/hGrgxayw3L

— Maria Elvira Salazar (@MaElviraSalazar) October 23, 2018
The McLaughlin & Associates poll of 400 likely voters was conducted between October 11 and October 14.
These most recent poll results stand in sharp contrast to the New York Times Upshot/Siena College poll on the race released on Monday, which showed Shalala with a seven point lead over Salazar, 44 percent to 37 percent. The poll was conducted between October 15 and October 19 of 542 likely voters and has a 5 percent margin of error.
A Mason-Dixon Telemundo 51 poll conducted between October 1 and October 6 of 650 likely voters gave Salazar a two point lead, 44 percent to 42 percent.
The Cook Political Report announced on Tuesday that it has shifted its rating of the race from "Toss-Up" to "Lean-Democrat," a rating shift belied by Tuesday's McLaughlin & Associates Poll.
"Former HHS Secretary Donna Shalala's late-career bid has complicated what should be a slam dunk for Democrats to capture an open Miami seat that voted for Hillary Clinton 59 percent to 39 percent. At 77, the former University of Miami president and head of the Clinton Global Initiative would be the second-oldest congressional freshman in history and doesn't speak Spanish in a 76 percent Hispanic district," the Cook Political Report said in its analysis of the race on Tuesday:
However, the balance of evidence suggests the past month's events and the anti-Trump fervor of the district make Shalala the narrow favorite to hang on against charismatic GOP former Telemundo journalist Maria Elvira Salazar. Polling has been all over the place, and several GOP-sponsored surveys continue to show a close race. But a new New York Times/Siena College poll gives Shalala a 44 percent to 37 percent lead.

The NRCC has purchased late ad time in the district, and Shalala embarrassingly had to rescind an invitation to California Rep. Barbara Lee, who has praised Fidel Castro in the past, to appear at a campaign event. But the DCCC is up with ads attacking Salazar for appearing to compliment Trump on Twitter. Salazar will carry the Cuban vote, but liberal white voters in Miami Beach could carry Shalala across the finish line.
The Tampa Bay Times analyzed the same New York Times Upshot/Siena College Poll data as the Cook Political Report and moved the race from "Highly Vulnerable" to a flip from Republicans to Democrats to simply "Vulnerable":
This majority Hispanic district in Miami and Miami Beach remains No. 1 on our list, but we're downgrading it from "highly vulnerable" to "vulnerable." It was previously held by moderate Republican Ros-Lehtinen, but Hillary Clinton won the 2016 presidential race in the district by 19 points. Shalala — the former U.S. Health and Human Services Secretary and University of Miami president — won a hotly contested primary thanks to strong fundraising connections and name recognition, but her lack of native Spanish-language ability and baggage stemming from her tenure at Miami have hampered her ability to nail down the race.

By contrast, Republicans have been pleased with their nominee, former Univision journalist Maria Elvira Salazar; she is well known locally and is experienced in the politics of the local Cuban community. Salazar supporters pounced when Shalala initially planned to campaign with U.S. Rep. Barbara Lee, who has been friendly to Cuba and Venezuela — an unforced error for the first-time congressional candidate.

Salazar narrowly led Shalala in a recent Mason-Dixon poll, but Shalala was up by a mid-single-digit margin in polls by the New York Times/Siena College and by a Democratic polling firm. Shalala can still win, but it won't be as easy as previously expected.
With the latest polling results in Florida's 27th Congressional District all over the map, the outcome in this key toss-up race is not likely to be known until well after the polls close on November 6.
http://feedproxy.google.com/~r/breitbart/~3/eWg_miOKPu4/