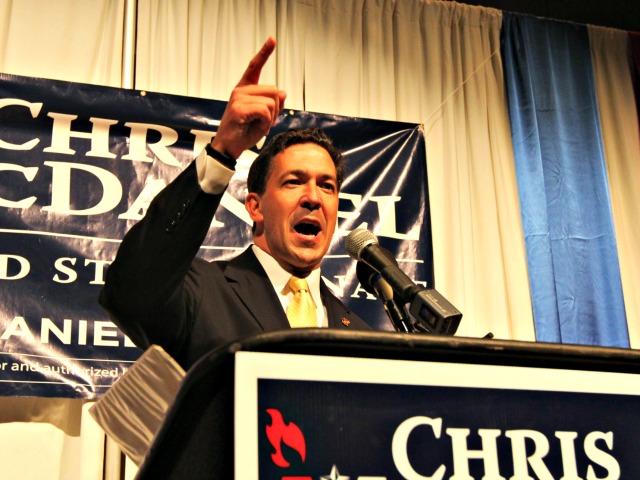 Conservative State Rep. Chris McDaniel (R-MS) leads Sen. Cindy Hyde-Smtih (R-MS) in the Mississippi Senate race, according to a poll released on Monday.
A Change Research poll revealed that Democrat Mike Espy leads at 40 percent, while McDaniel has 28 percent and Sen. Hyde-Smith has 27 percent of the vote.
Change Research, a Democrat polling firm, suggested in a tweet on Monday that Espy will advance to the Senate runoff election, although it remains unclear whether his opponent will be McDaniel or Hyde-Smith.
MS Senate (n=1003)

Mike Espy 40
Chris McDaniel 28
Cindy Hyde-Smith 27
Tobey Bernard Bartee 1

Mike Espy will almost certainly advance to a runoff election. It's not clear who his opponent will be.

— Change Research (@ChangePolls) November 5, 2018
Mississippi will have a three-way Senate election on November 6; if no one wins more than 51 percent of the vote, the top two candidates will go to a run-off election for the Mississippi Senate seat.
The Change Research poll contends that if the election were held today, the Mississippi Senate election would lead to a run-off between Republican McDaniel and Democrat Espy.
Sen. Hyde-Smith struck up controversy in October reminiscent of Hillary Clinton's "Deplorables" comments when she and her campaign referred to Mississippi voters as "horrific" and said that McDaniel voters could not think for themselves.
"… He's got people that can't think for themselves, and they believe it," the Mississippi senator said of McDaniel supporters.
McDaniel told Breitbart News Saturday host Matthew Boyle that Hyde-Smith, as a former Democrat, tends to condescend to constituents when she realizes she is losing. A previous leader of the Democrat party confirmed in June that Hyde-Smith voted for Hillary Clinton in the 2008 presidential primary.
State Sen. McDaniel noted that as a Republican senator, Hyde-Smith has not properly represented her conservative, deep-red state. Conservative Review gives her a lifetime conservative rating of 50 percent, while FreedomWorks gives her a 46 percent rating.
In contrast, McDaniel described himself as a "lifelong Republican conservative" who would mirror conservative icons such as Sens. Ted Cruz (R-TX), Mike Lee (R-UT), or Rand Paul (R-KY) if elected to the U.S. Senate.
"If she wins this term she's going to turn right back into that same old Democrat she always has been. It's going to be the Susan Collins of Mississippi, and the thing is that Mississippi is a deep-red conservative state," McDaniel added.
http://feedproxy.google.com/~r/breitbart/~3/6WOnDeC_ouQ/