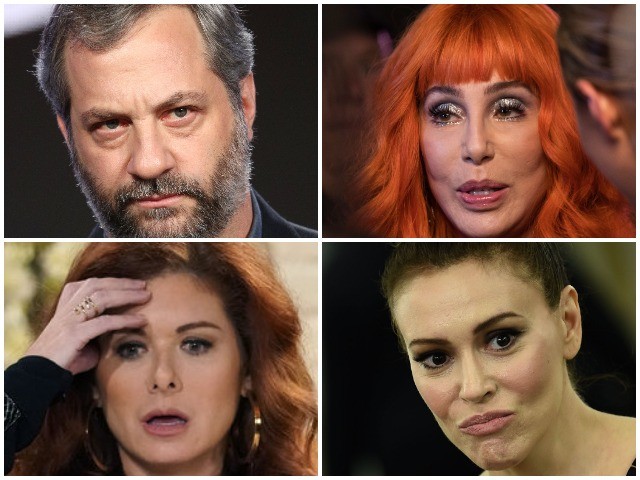 A new poll indicates that in the eyes of most likely voters heading to the polls this November, celebrity and outside political endorsements are meaningless and have no effect on their vote.
According to Rasmussen Reports, "Just 24% say it's even somewhat important to their vote when celebrities or politicians from outside their state campaign on behalf of a local candidate, including 12% who say it's Very Important. Seventy-five percent (75%) say outsider campaigning is not important to their vote, with 48% who say it's Not At All Important."
That may come as bad news to the many Hollywood celebrities who seem to think that their voice is an important factor that can help swing this year's midterm elections to Democrats.
Hollywood celebrities, determined to stop President Donald Trump's agenda, have launched an enormous effort to elect Democrats to the House and Senate.
An article from the Washington Post published in September reported that Hollywood celebrities' spending in the 2018 midterms was outpacing its spending in the 2016 presidential election by almost $1 million.
Celebrities have repeatedly made headlines for obscenely large donations to liberal candidates causes over 2018–and it doesn't take a genius to know what political party the money is going to.
According to a recent report, 99.7 percent of donations from major Hollywood power players went to Democrats.
HBO host Bill Maher donated $1 million to the Senate Majority PAC, a super PAC that works to get Democrats elected. Seth MacFarlane also donated $2 million to the Senate Majority PAC this year.
In September, director Judd Apatow hosted a fundraiser for Democrat Beto O'Rourke, who is currently challenging Republican Sen. Ted Cruz.
Alyssa Milano has also been a strong supporter of O'Rourke:
Senator Ted Cruz (TX)- Congressional recipient of $77,450 NRA gun lobby money, A+ NRA rating.

He's up for re-election in November.

His opponent Beto O'Rourke – $0 from NRA, F NRA rating. #VoteForBeto #NoRA
* stats via @gunsdown as of March 2018 pic.twitter.com/VkRj1OWFYj

— Alyssa Milano (@Alyssa_Milano) May 18, 2018
Many celebrities have also used social media to influence midterm races. Cher recently tweeted that people's lives depend on their midterm vote.
"YOUR VOTE CAN PROTECT YOUR FAMILY'S LIFE,ITS UP 2 U" she tweeted.
HELP PPL VOTE‼️GIVE HOPE, TELL THEM CONSEQUENCES OF NOT VOTING‼️THE OUTCOME OF EVERY RACE IS CRITICAL‼️PPL MUST VOTE LIKE THE LIVES OF THEIR❤️ONES DEPEND ON IT.THE LIVES OF THEIR❤️ONES DO DEPEND ON IT‼️SISTERS🏼🏽YOUR VOTE CAN PROTECT YOUR FAMILY'S LIFE,ITS UP 2 U

— Cher (@cher) October 11, 2018
http://feedproxy.google.com/~r/breitbart/~3/k8aoBs-KN3s/